Written on June 29, 2013 at 11:51 am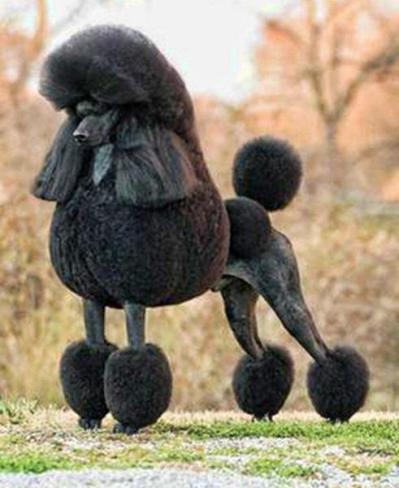 At Danburg Properties of Boca Raton, we've been on a wild, wonderful ride over the past several years. Along with managing and leasing commercial, office and warehouse space, we've been watching our beloved London the Standard Poodle on the national dog show circuit. He recently joined the Century Club, earning his 100th Best in Show. Now, it's time to share our thanks to all who helped along the way…
On June 8, London Platinum Grand Champion Jaset's Satisfaction earned his 100th Best In Show award. Joining The Century Club was no small feat, for London, his team and those who've supported us all along the way. He became only the 33rd dog to ever achieve this milestone.
With the hard work now is behind us, and London "retiring" to a life of leisure, we would like to thank everyone who has played a part in this very important accomplishment. Like the nervous winner of an Academy Award, we will try to recognize all those who were involved – strangers who became friends and family and who will forever hold a place in our hearts. Alas, we may forget a few…
Like the "12th man" in a football stadium, the Team London roster extends well beyond the ring. Every friend, fan and supporter has played an important role in our success. Whether it's a word of encouragement, a "Like" on Facebook or a clap from ringside, thousands of people have played their part. Your encouragement is more important than you might realize.
To all the Kennel Club members and volunteers who stage and host the shows every week, we know your job often goes unrecognized. But we realize the work you do is vital to the success every show dog enjoys. We also hold a special debt of gratitude to the poodle community that welcomed and mentored us. You hold a touching place in London's – and our – life.
To all the judges who have voted to make this dream a reality. From Eugene Blake, who awarded London his first Best In Show, to Norman L. Patton, who awarded London his 100th, to Mrs. Polly Smith, who awarded London Best In Show at the Eukanuba National Championship, to all the judges from 2 through 99 – including the Variety and Group judges, we know the competition is keen and your decisions are difficult week in and week out.
Along those lines, the people from Eukanuba and the P&G Pet Care family. You were a pleasure to work with following London's championship. We were both honored and humbled at the attention you bestowed on London – and us.
To the photographers, including Lynda Beam, who capture the touching and memorable moments. You are a remarkable lot. Whether the official show photographers or those who make their living catching candid photo opps between the dogs and handlers, you make permanent the otherwise fleeting memories and moments in time.
London's story has been told in large part through the advertisements that have run in dog show publications. Our advertising designer, Jeffery Hanlin, has tapped his talents to oversee photo shoots and design ads that are highly creative and bring new life to London's campaign.
Similarly, Sarah Rosa, you taught us about how important social media can be in telling the world about London's pursuits. It's changed the industry.
None of this would have been possible without the work of Chris Bailey and Sandra Tompkins, London's very special breeders. Thank you for sharing your fabulous boy with us. He's made us all proud, no?
Beth Harris, you were vital to launching London's career. Mary-Jo Winters, your support as an original backer early on made such a difference.
Linda and John Rowell, your influence permanently instilled in us a passion for showing dogs. Though it was with a different dog, the lessons remain. What we've achieved with London, Risky and Boo most people never accomplish. The insights you shared catapulted our success to immeasurable heights.
To Julia Kinsey, London's full-time caretaker and handler's assistant. Your two years of committed involvement have made a world of difference – and enabled handler Ann Rairigh to focus on what she does best…
Speaking of which, we're left to struggle with how to adequately thank someone who's gone so far beyond the role of London's "handler." Ann, you've been a mentor, a trusted friend, the person who believed in us and who originally helped instill the dream. Your faith and belief in the team has been incalculable. You've been our fearless leader, the captain of the team (even if it took a month to learn how to pronounce your last name). More than anything, your ability to make London happy has helped keep him focused. As this chapter closes, we look forward to a future together.
Finally, London, you've been more than a "dog" during this run. You've given us all something to focus on, to aspire to, to cheer about and to believe in over the past 100 wins (which, as a matter of coincidence, was followed the next day by "Allie" becoming the 34th member of the Century Club).
You're more than a show dog. You're a companion whose grace in the ring and "victory dance" following each win made you remarkable to watch.
As you head off to retirement, running through open paddocks and Kentucky bluegrass, chasing squirrels and Frisbees, swimming in the pond and doing all the things a "regular" dog does, we know somewhere deep down you realize you're anything but regular.
London – Platinum Grand Champion Jaset's Satisfaction – you are a special being who's played a special role in this special adventure.
So, as this chapter comes to a close, we thank everyone who's been part of our dream. It has been very special indeed.
Michele Molnar & Jamie Danburg