Written on January 17, 2014 at 12:34 pm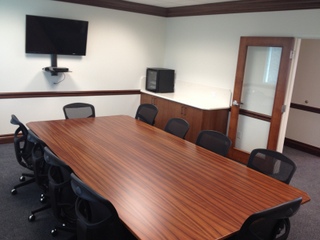 Choosing office suites in Boca Raton can be challenging. Finding one that is a good fit for the business yet remains within its budget can be more so. The business must consider not only its current state, but its needs in the future. Underestimating the business' growth could stifle productivity. While incurring the cost of unused space may seem like an unwarranted expense, making provisions for anticipated growth is a necessary business expense. In addition, the company must also factor in the additional costs associated with acquiring the office suite, which may include:
1. Moving Costs
2. Construction
3. Downtime while renovating and moving
4. Furnishings
5. Utilities
Office Suites in Boca Raton for Any Size Business
Whether the business is a growing company or a multinational firm, Danburg Properties can help locate affordable office suites that will meet the organization's needs. They're listings include moderately priced office suites in two of the finest corporate parks in Boca Raton. Peninsula Corporate Center features an impressive, three-story, Class "A" office building with suites from 354 to 4,000 sq. ft. The grounds are attractively landscaped and the building features many extras such as granite counter tops, private kitchenettes, all 'A' class finishes and including Solid Core 7 ft. office doors. The recently renovated One Boca Commerce Center is a two-story, 25, 572 sq. ft. building situated on a lake with beautiful views.
Office Suites in Boca Raton Help Manage Cost
In addition to affordable rates, many of the office suites include amenities that equate to cost savings for occupants. Building maintenance can be a large expense for businesses. Many of the office suites provide building maintenance as a service to the lessee. Some office suits may also include state-of the-art telecommunications systems. Those who rely on high tech communication networks will save both time and money on installation of this equipment when leasing an office suit where it is included. A number of facilities provide janitorial services on a regular basis. This assures an environment that is visually appealing and healthy. The addition of services such as these equates to cost savings for businesses.
Quality Pays Off in Dividends
When evaluating the monetary aspects of leasing an office suite, one of the most important things to consider is how the environment will impact the business financially. Providing professional and aesthetically pleasing surroundings in which to do business will more readily encourage clients to do business with the organization. Additional space or a more effective layout can improve work flow and throughput. The business should anticipate future expansion. As new clients are added or product lines developed, the office must be able to accommodate these changes. A quality office suite will pay for itself through improved productivity and customer relations.
Take Advantage of the Economy
Boca Raton remains very economically sound. As a result, office suite vacancies remain unchanged and leasing rates remain stable. As renewed economic activity occurs and vacancy rates decline further, leasing rates will rise. Businesses can take advantage of the economy before the market 'heats up' by leasing an office suite at more affordable rates during this time of stable economic growth.