Written on February 14, 2013 at 9:17 am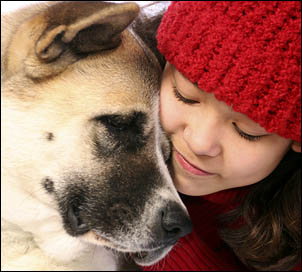 Americans love their pets. Here at Danburg Properties of Boca Raton, it's no secret that we're unabashed fans of canines of all types. Statistics vary, but pet lovers nationwide are expected to spend more than $800 million on their pets this Valentine's Day.
From heart-emblazoned collars and leashes to heart-shaped tags, to retailers and even veterinarians running Valentine's Day pet picture contests and offering gift certificates and other prizes, the amount we spend is limited in some ways only by our love – or creativity.
It's no surprise – and should be no cause for embarrassment or justification. Pets – from dogs and cats, to hamsters and fish – bring tremendous joy to their families. We spend hours walking them, talking to them, sharing time in their company. Fish aficionados can stare at the soothing sight of their aquarium for hours on end; it's little wonder computer screen savers are available showing what would appear to be an undersea scene.
Pets pass no judgment on their owners. Those that can (like dogs, as opposed to fish), love us back unconditionally – even when we're moody or just being human.
Researchers have proven that pets even bring therapeutic benefits to their owners and others. They sense and respond when we're under the weather. Here at Danburg, we're working with Risky, our award-winning pug, to become a "therapy dog." In this role, he'll be qualified to walk the halls of hospitals and nursing homes, bringing calm comfort and joy to patients and residents. It's an important calling for animal and handler alike.
So, this Valentine's Day, feel free to splurge on your pet. Yet, don't expect a hard time if you don't. As one person quoted in the article said, "The reality is that your pets don't know its Valentine's Day. You're not going to get grief if you don't come home with anything."
But if you do bring home a treat, you'll know. And you'll probably feel better for it.
LEAVE A COMMENT: What did you buy your pet for Valentine's Day?