Written on January 15, 2014 at 11:51 am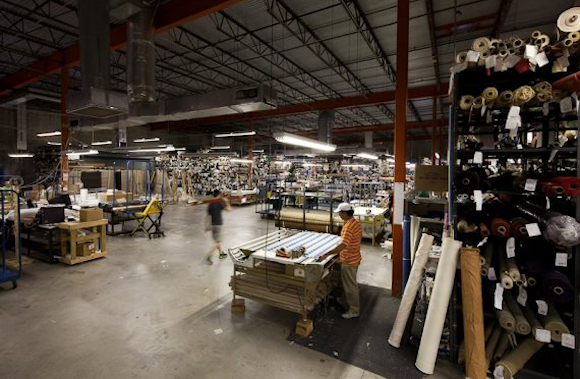 There are many things to consider when choosing warehouse and office space to lease. The type of warehouse and office space required is most often defined by the needs of the business. This may vary depending on if the business is retail, distribution or manufacturing. A distributor may require a substantial amount of warehouse space, but only need a small amount of office space. Retail businesses typically need more floor space to model merchandise than warehouse space.
In contrast, a manufacturer may require a large amount of space in both. The warehouse and office facilities should provide the space and functionality to perform business operations with ease. The amount of square footage will depend on the size of the business. Danburg Properties can help businesses of all types locate the best warehouse and office space for lease in Boca Raton. Danburg, has been helping tenants choose the most suitable and cost effective space for their business for 31 years.
How to Find Warehouse and Office Space for Lease in Boca Raton
Finding warehouse and office space for lease in Boca Raton is as simple as contacting Danburg Properties. They specialize in commercial real estate, and have listings for the finest warehouse and office spaces available in Boca Raton. Danburg Properties has experience working with businesses from a variety of industries. They are familiar with facility requirements necessary for businesses to sustain operations, and can assist in locating the right facilities for any organization. Danburg Properties provides businesses with diverse listings that offer many options.
Warehouse House and Office Space for a Thriving Business
A business' warehouse and office space can have a tremendous impact on its productivity. The floor plan should be compatible with the business' objectives. For example, a company that frequently performs demonstrations may find a floor plan that includes open spaces more effective than one that is comprised mainly of private offices. Many of today's businesses are highly dependent on high tech communications networks. The availability of these services may be a critical factor when choosing warehouse and office space. In addition, an office with a professional and well maintained appearance provides a good impression on clients and customers. The many features of the "properties" Danburg Properties owns and operates are one of the reasons they have the best warehouse and office space for lease in Boca Raton. Businesses can take advantages of the following amenities:
• Onsite 24 Hour Security
• After Hours Card Access
• Janitorial Service
• Satellite TV, Broadband, VOIP Telecommunications
• Tropically Landscaped Courtyards, grounds and recreational areas
• Dock and Grade Level Loading in warehouses
• Full Generator Backup
Types of Warehouse Space Available in Boca Raton
Danburg Properties has listings for a variety of warehouse types. These single and two story buildings are available in several multiple sizes. Some units are equipped with HVAC to assure the contents are protected from moisture, heat and humidity. Cold storage and refrigeration units are also available for storing perishables.
Boca Raton's "First Class" Office Space
Office space is available in a number of convenient locations across the city. Many are newly constructed, and include storm reinforcements. All are constantly renovated to enhance the interior and exterior of the buildings. Improvements such as interior design, upgraded lobbies and new landscaping have made these properties some of the finest available. To view the best office space Boca Raton has to offer, contact Danburg Properties.