Written on August 24, 2012 at 11:27 am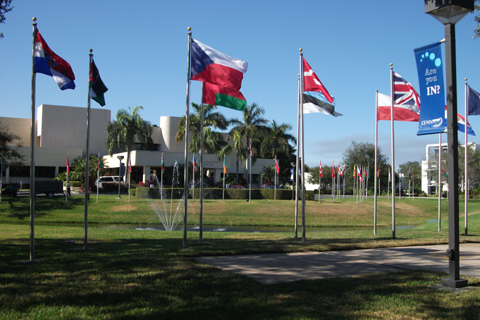 When the Commission on Presidential Debates this summer announced "Foreign Policy" would be the topic of the third and final debate between President Barack Obama and presumptive Republican contender Mitt Romney, administrators and faculty at host Lynn University had reason to be pleased.
Or, as WLRN Public Radio [http://blog.wlrn.org/index.php/2012/07/final-presidential-debate-in-boca-raton-to-focus-on-foreign-policy/] reported, the news brought "a huge happy dance" to the Boca Raton campus.
Lynn offers a snapshot of South Florida's burgeoning international community – and its role on the presidential stage. Students from more than 80 countries attend Lynn – as evidenced by the national flags found flying on the campus. This year, along with a globally focused curriculum, the university is offering 80 courses with a connection to the debate. "The Debates Go Global," for example, explores how U.S. presidential elections are shaped by events on the international stage.
The school has maximized the exposure the debate offers. "What the World is Coming To" [http://www.lynn.edu/about-lynn/news-and-events/news/lynn-is-what-the-world-is-coming-to] – the school's fall admission marketing campaign – refers not only to the high percentage of international students enrolled at Lynn. It also alludes to the university's innovative approach to teaching and learning, especially international studies and affairs.
"Lynn is like a mini United Nations," one administrator said.
The university's website highlights other similar pursuits. Lynn has developed its first Apple iTunes U debate curriculum for education. The application makes debate materials easily accessible to students. Activities also are tied to Florida's New Generation Sunshine State Standards and Common Core Standards used by other states as well.
Lynn also formed a partnership with the Florida Society of News Editors (FSNE) on various initiatives. These include educational meetings with students, hosting of FSNE's quarterly board meeting, and developing a news feed on debate2012.lynn.edu, Lynn's official debate website.
Having the debate at Lynn, in Boca Raton, and in South Florida, reflects the international realities of the campus, the city and the region – and its business community. Danburg Properties of Boca Raton is an official sponsor of the debate, and will be posting to social media live from the event.
"The fact that we are in South Florida – an incredibly diverse, multicultural and multinational demographic here, I think that makes the foreign policy topics even more meaningful here in South Florida," Lynn University International Relations professor Marcheta Wright told WLRN. "And for Lynn."
About the Debate: The event will be held on October 22, 2012, at Lynn University – and broadcast worldwide. To learn more, visit Lynn University's official debate site.