Written on May 21, 2012 at 12:35 pm
Congratulations to Danburg Management's own London The Standard Poodle, who won his 68th Best In Show at the Blennerhassett Kennel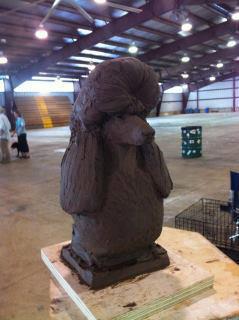 Club in Marietta Ohio on May 20. Thank you Group and Best In Show Judge Mrs. Robert (Polly) D. Smith for this amazing recognition and honor.
London is now the top winning black standard poodle in history! What a better way to memorialize a great dog than with a bronze life sized bust.  Here is the first step in its creation, that began this weekend.
But that's not the only fine art inspired by this fine canine.  We'd like to thank Sophia E. from our neighbor NCCI, (the office building next to Peninsula Corporate Center) who sent us this great drawing of our favorite poodle !