Written on October 6, 2011 at 2:00 pm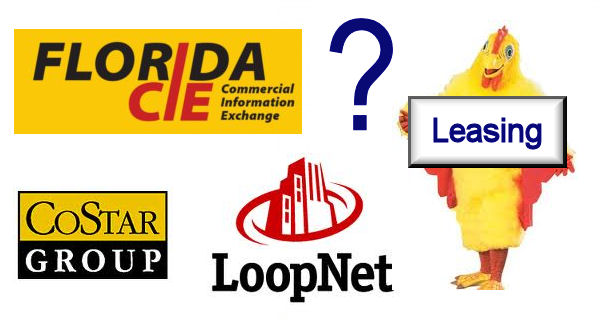 The New Game in Town
A new player has emerged in the field of Commercial Real Estate data in South Florida. The Florida Commercial Information Exchange ("FloridaCIE" www.floridacie.com) from eProperty Data (ePD) is now up and running for Dade, Broward and Palm Beach Counties.  Is FloridaCIE  is the next killer app that can challenge the dominance of market leader  CoStar, will it fade into oblivion, or will it fall somewhere in-between?
The answer to that question depends on the following:
Is quality Commercial Real Estate information worth more than a guy in a chicken suit?

I have a unique perspective from which to evaluate as I spent the first 15 years of my career running research departments for Cushman and Wakefield, Colliers International, Commercial Florida and Grubb and Ellis.
While Commercial Real Estate owners and brokers are primarily selling and leasing bricks and mortar, we are really in the information business. We all have access to various data sources. The data itself is a commodity that is either in the public domain or can be purchased from various providers. It is the ability to use the data to create opportunities that is the key to success in our industry.
FloridaCIE has entered the market at a significantly lower price point than the dominant market leader CoStar. For some companies, there is no question regarding the value of CoStar's premium service. But for others, including my company Danburg Management, it may be better to go with FloridaCIE and use the savings to do additional mailings,  pay-per-click ads on Google, or even to hire a guy with a sign in a chicken suit. The success of FloridaCIE will depend on the quality of their data and the answer to the chicken suit question.
The Current Champion
Before CoStar, the major brokerage companies who could afford their own research departments had a huge edge on the competition. Commercial real estate is an information business and those companies with the best information could attract the top professionals and procure the best assignments. While the residential market has a multiple listing service available to all, the commercial firms have traditionally kept their information in-house and close to the vest.
Starting in 1999, the local brokers began to outsource their research function to Costar, now a $1.3 billion New York Stock Exchange Corporation. The cost of a research department was therefore spread amongst the subscribers. But annual fees for a single office could still range into the tens of thousands of dollars and that does not include the cost of personnel to operate the software. While CoStar has made it possible for niche players to compete with the national firms in information technology, the cost remains prohibitive for many smaller firms, particularly in today's economic environment.
Costar has enjoyed a virtual stranglehold on commercial real estate information in South Florida since 1999 and is now in the process of acquiring Loopnet, its primary competitor. They now face a potential challenge as eProperty Data out of Seattle, Washington has entered the South Florida Market. They are offering Florida Commercial Information Exchange at a price point as low as $65 per month, a fraction of the cost of Costar. ePD started with its home market of Seattle in 1998 and has expanded to Houston, Seattle, Raleigh, Southern California and now South Florida. The National Association of Realtors (NAR) acquired a majority stake in ePD, but FloridaCIE is available to both Realtors and non-Realtors.
The Challenger
eProperty Data provides subscribers with information on every commercial parcel in the Tri-County South Florida market. This includes leasing availabilities and rates, ownership information, and tenant information (taken from public records but useful). There are tools for preparing tour packages and maps, creating brochures and a mobile app. There are also market analytics and a financial analysis package from Investit. Property owners and agents have the ability to upload floorplans, pictures and video, and member listings are available online to the public. Properties listed by FloridaCIE non-members are included but can only be accessed by members.
Lets Get Ready To Rumble
I took Florida CIE for a test drive to see if this platform had the power to compete with the other available data sources on the market and most importantly, Costar.  Looking at the competition, Costar pretty much stands alone. It has the most comprehensive information, it is updated monthly by professional researchers and the data has been combed through continuously for 12 years, so virtually all significant properties in the market are covered. There is also a good library of historical trend data. The negatives on Costar are the cost and the fact that much of the data is updated off site in Maryland. There is also some turnover among the researchers which can affect the quality of the data. While the data is not perfect, it is the best available and the brokerage community relies and depends on it.
Costar also surveys tenants to provide sizes of tenant spaces, lease expirations and contact information. In addition, their market analytics, reporting capability and user interface are excellent as you would expect from a $1.3 billion company.
Costar's major competitor, Loopnet has been around since the late 1990s. The main difference between Loopnet and Costar has been that Loopnet listings are added and updated by brokers and owners; while Costar has its own researchers maintain the data.
Loopnet keeps its listings up to date by requiring members to update every 30 days. Stale listings get removed. Due to the size of the database and the universal acceptance, Loopnet listings have become fairly comprehensive, but the information is only as good as the people imputing it. CoStar owns and controls its data, which helps to maintain the integrity and quality.
Costar agreed to acquire Loopnet for $860 million in April and the transaction is currently under review by the FTC. The two sites continue to run independent of each other, and the ultimate result of the merger is yet to be seen. It does appear, however, that there will be less competition in the commercial real estate information business. It does leave a door open for new competition and puts ePD in an enviable position.
There is not much to speak of when it comes to additional competition. Black's Guide provided property listings quarterly in a handy book format, but their online site never caught on and they folded back in 2009. CRE Sources, Black's Guide's successor in South Florida, provides an excellent publication and blog, but provides only paid listings and not a comprehensive list (just a suggestion, Debbie). Craigslist fills a useful niche in the market and there are other players such as Total Commercial, Diamond Data Mine, Realbird and Rofo.  But a broker or owner cannot be expected to list his or her properties in too many places and still have time to meet prospects and do deals (and write a blog).
The Test Drive
Which brings me to the test drive. First, as a matter of disclosure, my company has no financial stake in any of the companies mentioned; we are simply evaluating products for our own use and sharing our observations. We are a subscriber to Loopnet and members of Costar Showcase. Showcase allows us to advertise our properties to the public through Costar, but do not subscribe to their database services. We also list with CRE-Sources, and post listings on Craigslist and Rofo (see our Rofo video). We also use Google Adwords and we put a lot of effort into our Google search rankings. (of which blogging is a key component)
In our experience, Loopnet provides the most leads of any of the commercial listing sites, followed closely by Craigslist. Costar has been embraced by the brokerage industry, but Showcase in my opinion, has not been as popular among end users. Craigslist also provides a lot of leads, but also tons of spam and some odd requirements. As a tool for promoting our listings, I expect that CIE will fall somewhere between Loopnet and Costar Showcase. If the industry reacts favorably to CIE, and a majority of major listings are posted to the public site, the end users will follow.
The Test: Is it Better than a Guy in a Chicken  Suit ?
But will the industry accept FloridaCIE? Here is my take and it is directly related to the test drive. First, I cannot justify a $600+ per month subscription to Costar Data for my company. In our business, the smallest lease we'll do is worth about $12,000 and a typical lease is worth from $50,000 to $200,000.  The argument is that if I do one deal because of CoStar, it pays the cost and then some. But is that $7,000 expenditure more effective than buying additional clicks from Google, sending out 20,000 postcards to potential users, putting up a billboard on I-95 or hiring a guy with a sign dressed in a chicken suit? My opinion is that there are better ways for me to spend my marketing dollar, but we have a somewhat unique niche in appealing to small tenants. The answer for many of our competitors is a clear yes for CoStar. For anyone representing tenants, CoStar is essential, but we don't represent tenants. In addition, I believe the FloridaCIE platform will be sufficient for many tenant representation specialists.
But is a $780 annual subscription to FloridaCIE worth the cost? For me, absolutely.  The ability to promote the properties alone may be worth the cost and I also get the market data, reporting, mapping financial analysis etc.  These guys pretty much had me at hello.
I did an analysis of the top 60 office properties in Boca Raton to see how well ePD had the market covered.  On my top 60, 52 were listed on the site. That's 87.5 percent. That is good, but I can't put my reputation on the line with a client if I only have info on 87.5 percent of the market.  What is promising is that when I e-mailed my findings to Carl Peterson, Director of Sales at eProperty Data, they quickly increased the 87.5 percent up to 100 percent. As a result of my findings, they also placed a link on the site for users to identify missing properties. The key here, at least in this early stage, is that ePD appears to be very responsive to its customers.
I did not test every feature of the product but I found it to perform most if not all of the key functions needed, and any new functionality can and will be added. The reporting capabilities are more than adequate and they are currently being upgraded. What I like about ePD's interface is that I can get on their map using GIS Tools/Parcel Locator and bounce my little real estate sign from parcel to parcel and get listing, ownership, real estate tax and tenant data on each. This is in addition to the ability to do standard searches by square footage, price and location. I can also draw a polygon on a map and search within it.
The next question – Is the data accurate? My opinion is that the one thing we can be certain of, whether it's Costar, Loopnet or even my own website, is that the data will always be wrong. Things change quickly in a market, and even if a space is not officially listed as available, tenants are always in the process of expanding, contracting, merging and acquiring. There is more to market availability than knowing which spaces are vacant.  In short, the data should be reasonably accurate. ePD data is usable now and will improve over time. They intend to update all listings on a monthly basis, and as long as people are using the system, brokers will share in the effort to keep their listings current. What separates the good brokers from the bad ones is the knowledge of how to spot opportunities for their clients. Regardless of what inventory system you use, you're still going to have to get on the phone. As long as I have a comprehensive list of properties and contacts and an easy way to search, I have a usable system.
Conclusion: CoStar vs. ePD and a Chicken Suit
After my evaluation, I have come to the following conclusions. If you're Cushman & Wakefield, CBRE, Grubb & Ellis, Jones Lang LaSalle or another major firm, the $65 monthly fee for ePD is a drop in the bucket. These companies generally have national contracts with Costar. ePD has not yet developed a policy on corporate contracts, but they tell me they will do something similar. I expect the major firms to subscribe to both services. Many regional and boutique firms will likely run both systems concurrently until they determine if they can eliminate the need for the higher priced Costar system. Other local players and solo practitioners as well as niche landlords like Danburg Management are prime candidates to add the CIE system.
It is going to be up to the people at eProperty Data to earn the trust of the brokerage community. If we find that their product fills our needs and that they can beat CoStar on price, they will earn our long-term business. The competition may also force Costar to re-think their pricing strategy which is also good for the brokerage industry.  Another possibility may lie in Costar's willingness to acquire their competition, although with the FTC already involved in the Loopnet deal, any similar moves are unlikely. There are also niches that will continue to be filled by players such as CRE-Sources, Craigslist and Rofo. And any marketing strategy now and into the future must take Google into consideration. If eProperty Data has the resources to provide the industry with quality and timely data at an attractive price, they will be extremely successful. However, if they are spread too thin and we find their data to be unreliable, that success will be short-lived.
The verdict – ePD has a good track record, they are well backed, their people are professional and responsive, and their interface is excellent. I will subscribe to their product and subscriptions are available on a month-to-month basis. My concern is whether they will have adequate resources to cover the market. ePD tells me they have 15 researches who can work on our market, and about five will be assigned full time. That should be sufficient. The financial backing of NAR will give ePD some staying power in the critical start-up phase, but ePD's success will ultimately depend on the size of their subscriber base. Are there enough companies that will add CIE or switch from CoStar to support the cost of keeping the data accurate? And will the system be relevant enough for brokers to justify the effort in keeping their own listing data current.
In my conversations with the folks at CoStar, their selling point is that they focus on the central control and ownership of the data which provides a premium product that is worth the additional cost. eProperty Data also controls its data, but focuses on the community which shares ownership of the data and contributes to its accuracy, thereby lowering the cost as well.
The emergence of a new choice in market information providers will lead to some interesting decisions for commercial real estate firms in South Florida. For my own company, should I pay thousands for a CoStar subscription or less than $800 for Florida CIE ? One more deal easily covers the subscription cost, but am I better off investing the difference in more clicks on Google, sending out additional mailings, or hiring a guy with a chicken suit and a sign?
It all comes down to whether quality information is worth more than a guy in a chicken suit. The answer to that question depends on the end user. For the larger companies, CoStar is still a clear winner, although it is likely that these firms will subscribe to FloridaCIE as well. For niche players like Danburg Management as well as smaller boutique firms and solo practitioners, the emergence of FloridaCIE means that the chicken suit will get serious consideration.  It will be interesting to watch over the coming months. Meanwhile, there is a guy in a chicken suit in my lobby asking for an interview.