Written on January 31, 2012 at 11:42 am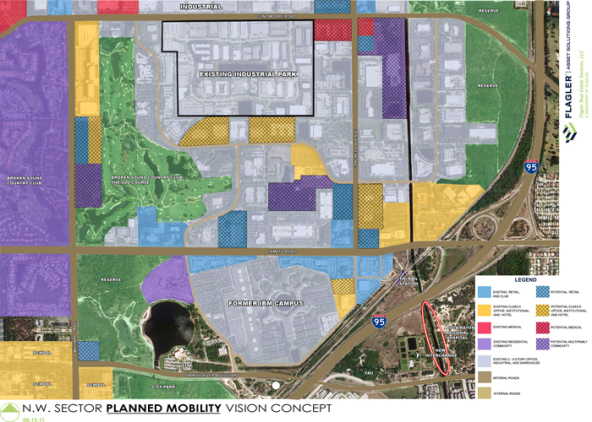 (original article from the South Florida Business Journal can be found here: http://www2.bizjournals.com/southflorida/events/2012/MedUTech/developers-look-to-revitalize-citys.html)
N.W. Sector Planned Mobility Vision Concept, Flagler Real Estate Services, LLC
Like starting with a clean slate in a city almost nine decades old, area developers, landowners and service providers are looking to the "Northwest Sector" as a chance to bring new development and much-needed amenities to an outlying area of Boca Raton.
The 2,200-acre sector, bordered by Congress Avenue, Interstate 95, Spanish River Drive and Military Trail, once was the epicenter to IBM and the city's growing technology hub. Still active as a center of business, property owners and developers see gaps that – once filled – will round out a robust commerce center.
What's missing? Retail to serve the shopping needs of thousands who work there. Luxury, apartment-style residences for short-term and contract workers. Restaurants to feed executives and employees who now must drive longer distances to lunch – or eat in-office. Medical complexes, doctors offices and diagnostic facilities to bring healthcare to the workers – and reduce the need to take time off to visit the doctor or clinic.
Jamie Danburg, President, Danburg Management
"There's a huge demand for this. Little has been built here in 25 years," says Jamie Danburg, president of Danburg Management. The international developer and landowner plans a $50 million project on 10 acres it owns near Clint Moore Road and Congress Avenue. "This is what this area of the city needs. We need more amenities to make it a better environment for the community, employers and employees."
Danburg's project, in partnership with Flagler, includes up to 260 luxury garden rental apartments, retail and casual dining, and medical offices.
The area remains an active employment and light industrial zone. Large employers in and around the area include IBM, NCCI, Siemens, Verizon Wireless, Office Depot, Océ, Tyco/ADT and 3Ci. Yet landowners, city planners and regional service providers see the need to develop more amenities to serve them. For its part, Boca Raton Regional Hospital has looked to the northwest with a mix of physician offices, urgent care centers, and ambulatory care centers as a strategy to serve the population and moderate its own traditionally seasonal and Medicare dependence, says Jerry J. Fedele, the hospital's President /CEO.
In far-reaching plans, some of the 68 developers or landowners in the area expect the mixed-use solution will deliver services – with little impact on density or intensity. Aside from retail, food service, residential and medical, they're considering educational facilities to help foster job development. Development and construction will include sustainability solutions to reduce the use of natural resources through power and mobility management, says Keith O'Donnell, Senior Managing Director with Flagler, the Boca Raton developer involved in three projects.
The city council recently voted 5-0 in favor of changing the comprehensive land-use plan. These are part of a "multiple-step process" in transforming an evolving city, says Leif Ahnell, Boca's city manager. "This is setting the pathway."
Some 40 years after IBM arrived, aging buildings on prime properties present an ideal opportunity for redevelopment in the area. For now, developers and city leaders are lining up resources and getting plans in order.
"The zoning needs to be better defined and articulate how to bring more amenities to this large area," O'Donnell says. "It's about reducing dependency on the car by putting complementary uses next to each other. It's a smart way of positioning harmonious, pedestrian friendly facilities."
The Northwest is just one area seeing change and contributing to a new tapestry that is a new Boca Raton. Like the creation of Mizner Park, the beautification of First Avenue between Palmetto Park Road and Mizner Boulevard, or even the Lynn University Concert Hall or the new football stadium at FAU, it's all led to a sense of place and "a sense of optimism," says Charlie Siemon, a long-time land-use attorney with Siemon and Larson.
"The city has taken positive steps toward renovating planning and land-use controls to help with revitalization of older areas," Siemon says. "It's part of a community finding its way to participating in what increasingly is a global economy.