Written on July 25, 2012 at 4:50 pm
The internet is full of great apps, some you may know about, others you may not.  In our Danburg Favorite Apps articles we'll let you know about apps that have helped us and that we believe can help you as well.  If you have a favorite app you'd like to share with us, please e-mail us at info@danburg.com .
Today's app is Google Alerts. At Danburg, we try to follow any news pertaining to Boca Raton, Office Space, Warehouse Space and as referenced in today's other article: London the Standard Poodle.
Google Alerts patrols cyberspace sending us a daily e-mail with links to any web pages, news articles, blogs or videos pertaining to our search terms.  I get a daily e-mail of Boca Raton news, I get immediate notification when Danburg is mentioned and I have alerts on my name and a few others. It's a fantastic service, it's free and it's super easy to use.  Below is an alert set up for Boca Raton Office, as you'll see, an article from our own Danburg Blog.  See below for direction on how to set up your own Google Alerts.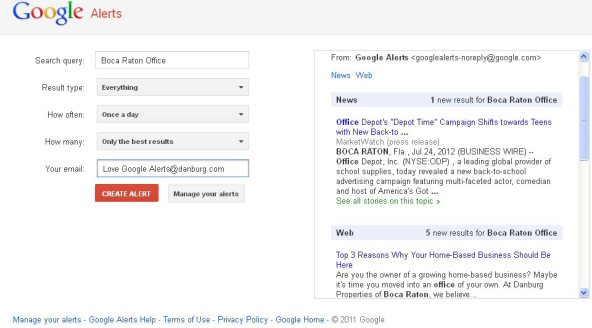 1.    Go to www.google.com/alerts.
2.    Select result type; it can be everything, or you can limit it to blogs, videos or news stories
3.    Choose how often you want an e-mail: As-it-happens, daily or weekly
4.    How Many: All results or only the best results
5.    Tell Google what e-mail address to send to.
And that's it.
A few tricks.  If you are looking for a specific phrase, put it in "quotes" and to eliminate terms, add a minus – sign. If you are looking for articles on "Jamie Danburg" it will exclude articles on Jamie Moyer and Curtis Danburg. If you search Danburg –Georgia, it will exclude articles pertaining to the town of Danburg, Georgia.
We hope you learned something about Google Alerts and that you that this great tool will help you in both your business and personal life.  Please use it for good and not evil !