Written on October 4, 2011 at 6:39 pm
I don't think Justin Bieber is getting nervous yet, but it does appear that one of our Danburg Management videos has gone viral with over 75,000 views.
I posted the video about 6 months ago.  ProSource Baseball, who leases an 11,600 sq. ft.  warehouse at Danburg Management's Boca Industrial Park has a relationship with Aroldis Chapman, a pitcher with the Cincinnati Reds.  The 23-year old lefthander defected from Cuba back in 2009 and came to ProSource to work with former Cuban National pitching coach Miguel Valdez.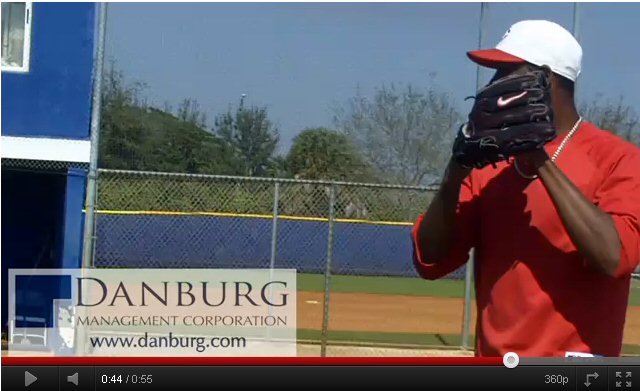 Chapman has become a legend by throwing 105 MPH, the fastest speed ever recorded in a major league game.  Brian Krinsky, one of the owners of ProSource introduced me to Chapman back in February and invited me to watch him throw.  As an avid fan, player and parent of a pitcher, I was interested to see how he does it.
Armed with my Kodak ZI-8 HD video camera, I drove out to American Heritage school in Delray Beach, a ten minute ride from ProSource and the Danburg office.  Standing 10 feet away from Chapman, I was able to produce a close-up video study of the mechanics that create a 105 MPH fastball. Not surprisingly, many young players have found and viewed the video, resulting in over 75,000 hits.  I have also posted a longer version of the video due to the overwhelming interest.
This brings up the obvious question – what does this have to do with office space and warehouse leasing in Boca Raton? The answer?  Not a whole lot.  It is related to one of our warehouse tenants; and if you haven't seen the ProSource facility and their video pitching machine (which may just be the subject of a future post) it is certainly worth seeing.
But the idea behind our blog at Danburg is to get you to visit our website to build awareness of the great properties we offer.  We also are happy to promote the businesses of our 200 corporate tenants.  We find that the best way to do this is to provide interesting stories.  I'm fascinated by what it is that makes internet video go viral, and this is certainly an interesting case.  Some of us are also interested in how a man can throw a baseball 105 miles per hour. Regardless of how we get your attention, we hope that you or someone you know is interested in leasing office or warehouse space in Boca Raton! We're looking for a few more great companies to join our community of businesses. And if you or your child is a ballplayer, I urge you to check out ProSource Baseball at www.prosourceboca.com .
- Ken Silberling – Director of Business Development