Written on October 22, 2012 at 9:28 am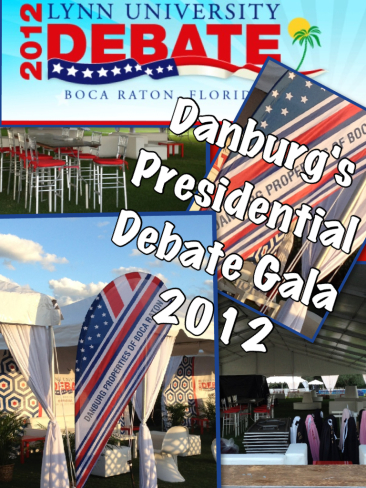 After months of planning and preparations, the third and final Presidential Debate finally is here – localizing national events and taking the discussion from the stage to the TV to tomorrow's watercooler. The team at Danburg Properties of Boca Raton is excited and proud to be a sponsor of Lynn University's debate program, and host of a Corporate Cabana on site at today's event.
It promises to be an historic event. Along with corporate sponsors like Danburg, the Sun-Sentinel reported how individuals and groups are helping out by volunteering as guides, security or labor.
Yet this event is important to all Americans, not just those in Boca Raton, Palm Beach County or South Florida. Though the economic impact is huge for the local market, the implications across the nation – and world – are much larger and more important.
That's why whether you're onsite at Lynn University or at a debate watch party or sitting at home tuned into the debate – and it's pre- and post-debate discussions and dissection by the pundits and commentators – watch. Visit Danburg Properties of Boca Raton's Facebook page to get up-to-the-moment feedback. Become involved in the discussion.
And be prepared for some lively watercooler talk come Tuesday.