Written on February 8, 2012 at 5:54 pm
London, the Standard Poodle, owned by our own Jamie Danburg and Michele Molnar has been grabbing national headlines with his 63 Best In Shows, including the AKC/Eukanuba National Championship.  This section is a real-time digest of the life of America's top show dog.  Check back often for updates.
We've also added a Facebook album on Danburg page, showcasing Jamie, Michele and London's journey in NYC during Westminster Week.  Check out our page here: Westminster Album

Click to follow London
Monday, February 27th, 2012
Bonhams NY Barkfest 2012 for Westminster Dog Show Week:
http://www.georgetowner.com/articles/2012/feb/16/bonhams-ny-barkfest-2012-westminster-dog-show-week/
Look who made the cover of The Dog News Annual magazine!
http://issuu.com/dognews/docs/d2012
Watch the Standard Poodles at Eukanuba:
http://www.youtube.com/watch?v=YDkL6DuJpDc&feature=youtube_gdata_player
London on YouTube
http://www.youtube.com/watch?v=p-0AqLBh82I&feature=youtube_gdata_player
London making headlines on WPBF news:
http://www.youtube.com/watch?v=g2UIfdhXrvM&feature=youtube_gdata_player
JUST Published in the Now & Noteworthy section of the Boca Observer  http://issuu.com/bocaratonobserver/docs/bro_mar2012?mode=window&backgroundColor#222222
Monday February 20th, 2012
"London" is America's #1 All Breed Dog out of over 2 million dogs that compete in AKC events annually.  To view the Top 20 List, check out the Canine Chronicle: http://www.caninechronicle.com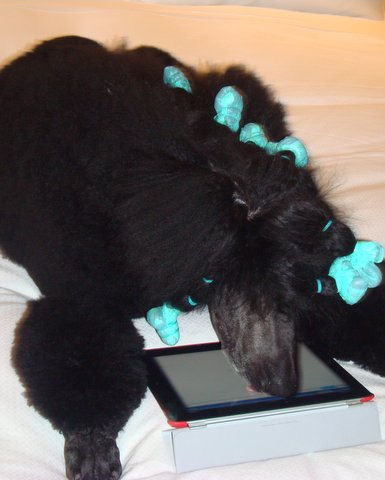 London blogging on the iPad
Tuesday February 14, 2012 2:45 PM
We'd like to thank everybody who has supported London at AKC and at Westminster. Although London did not win his breed, he did win Best of Opposite Sex, meaning he was the best male in a breed that was won by a female.
Monday February 13, 2012 11:55 AM
Congratulations to GCh Vetset Kate Winsit handled by Allison Foley. Well done Ladies. Good luck in group! We'll be back!
11:47 Made the first cut – results to come!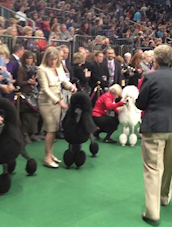 11:39 AM There he is !
11:32 AM London is on the floor at the Garden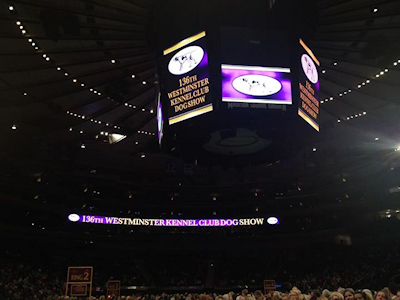 11:17 AM According to the site only the "Live" Button is actually live, the other buttons are running about an hour behind – watch@danburg_boca and @London_S_Poodle on Twitter for more info – or keep refreshing here.
10:40 AM – Judging for Standard Poodles scheduled for 11:15
10:15 AM  – -Watching Live Stream at www.westminsterkennelclub.com
The actual stream is at http://characterchatter.usanetwork.com/wkc/show.php
Miniature Poodles are up – Waiting on Standard Poodles – watch this page for live updates !
__________________________________________________________________
Friday, February 10th, 2012
The London Times – An Exclusive Interview With London S. Poodle
The London Times: London, you've won 57 Best In Shows including the prestigious AKC/Eukanuba National Championship that aired nationally on ABC last week. Yet the odds posted by Wynn's Casino in Las Vegas show that the Standard Poodle as a 20:1 shot to win at Westminster. The Pekingese at 6:1 is the favorite. Over 2,000 of the top dogs in the world are competing in the 136th Annual Westminster Kennel Club Dog Show.  Westminster is the second oldest annual sporting event in the U.S. behind only the Kentucky Derby which started a year earlier. How does it feel to be in New York, what do you think about the odds, and what do you have to say to the Pekingese?
London S. Poodle: Woof.
______________________________________________________________________
February 8, 2012
Yes, we admit it  – we've gone dog crazy here at Danburg.  Our own London_S_Poodle took Orlando by storm, winning the AKC Eukanuba National Championship Dog Show.  London, along with owners Jamie Danburg and Michele Molnar are now off to New York for the Westminster Kennel Club Show February 13th and 14th.
Follow @London_S_Poodle on Twitter we'll donate $1 for every new follower to the AKC Humane Fund.
The AKC Humane Fund
Helps support Parent Club Rescue activities;
Assists human-services organizations that permit domestic abuse victims to enter and stay in shelters with their pets;
Provides resources to programs that educate adults and children about responsible dog ownership including

The Awards for Canine Excellence

and the Library at the American Kennel Club;
Contributes to organizations that support its mission, including AKC Canine Health Foundation, AKC Museum of the Dog and AKC Companion Animal Recovery.
It's a worthy cause and it doesn't cost you a penny, just follow London on Twitter !
Watch for live Westminster Twitter Coverage via @Danburg_Boca .
Watch this space for up to the minute coverage as London invades New York for the first time since 1776.