Written on October 25, 2012 at 6:31 am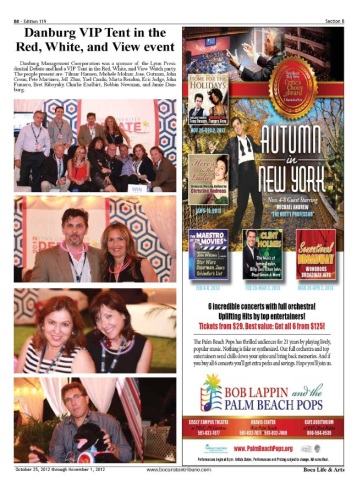 Our friends at the Boca Raton Tribune this week published a page of photographs taken in Danburg Properties of Boca Raton's corporate cabana at the Presidential Debate at Lynn University (also see Page B8 in the link above).
The December 22 event was memorable for many reasons. It brought global attention to both Lynn University and Boca Raton. It drove a reported tens of millions of dollars – and thousands of reporters, campaign workers and others – to the local economy and region. And it created a larger-than-life stage for the companies – like Danburg – who partnered with Lynn as sponsors of the event.
Danburg was proud to be among the companies supporting Lynn in this once-in-a-lifetime event. We're also pleased that some of our close friends and business associates from across the community were there with us to watch, celebrate and even debate among ourselves the performance of the candidates – and the possible future of our country.
As the election approaches, we'll think back warmly on Monday night. And we hope that all of you will Be a Voice – Make a Different – and Vote on November 6!