Written on December 27, 2012 at 9:28 am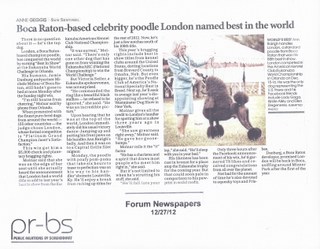 London, the award-winning standard poodle that just won the AKC Eukanuba World Championship this month in Orlando, Florida, keeping winning the praise and ink of local media. The Forum Newspapers this week published an article about London's accomplishments – and the pride of his owners Michele Molnar and Jamie Danburg, founder and CEO of Danburg Properties of Boca Raton, a leading developer, property owner and landlord of commercial and warehouse properties throughout the city.
London to date has won 89 bests in show nationwide. He'll compete in February in the Westminster Kennel Club Dog Show in New York City. Here's hoping he lands some more ribbons – and even more ink!