Written on December 11, 2012 at 11:21 am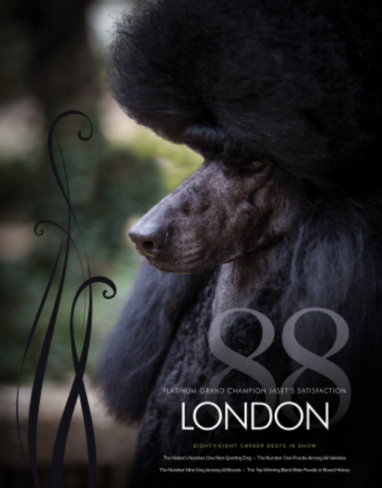 The nation's Number One-ranked standard poodle, co-owned by Boca Raton commercial real estate and warehouse property owner and landlord Jamie Danburg and Michele Molnar, will be representing the United States this week in the American Kennel Club / Eukanuba World Challenge being held in Orlando, Florida.
Officially named Jaset's Satisfaction but informally known as London, America's top-ranked standard poodle at last year's 2011 AKC / Eukanuba National Championship won Best In Show. He earned a $50,000 prize in front of 30,000 cheering spectators plus a national viewing audience on ABC-TV.
At this year's event, at the Orange County Convention Center, West Building in Orlando, London's handlers hope to continue his success.
London is the winner of 89 All Breed Bests in Show; 13 Specialty Bests in Show, including the National Specialty; and more than 200 Non-Sporting Group Firsts. In fact, London is currently the No. 1 standard poodle, the No. 1 non-sporting dog (per AKC rankings, 11/2012) and No. 8 dog amongst all breeds (AKC rankings, 11/2012). In February 2013, he will compete in the Westminster Kennel Club Dog Show in New York City.
Co-owner Jamie Danburg is Chief Executive Officer of Danburg Properties of Boca Raton, which owns and manages approximately one million square feet of premier office and warehouse space around the city.
London's Fast Facts:
+ London is the top winning black male poodle in history all varieties (all sizes toy, mini, standard).
+ London has had thousands of Facebook fans, including Lady Gaga and Ellen DeGeneres.
+ London's Facebook page received more than a half-million hits the day after he won the 2011 AKC / Eukanuba National Championship.
+ London often travels to shows in his own customized tour bus along with a handler, an assistant and an occasional photographer.
+ London's big hair look takes about four hours of pre-show grooming.
+ London is four years old and stands about three feet tall.
Good luck, London.