Written on July 25, 2012 at 11:48 am
Danburg Properties of Boca Raton is  a proud sponsor of The Boca Children's Museum's  "Singing and Swinging in the Pines."  The event will take place on Saturday, August 25 at 6PM at the Children's Museum of Boca Raton, 498 Crawford Boulevard, Boca Raton, FL 33432.  It is part of Boca Festival Days, a month long series of events facilitated by the Greater Boca Raton Chamber of Commerce.  All events are partnerships of local companies and our great non-profit organizations.
It will be a great Jazz Club Setting featuring legendary jazz diva Joan Cartwright and her trio followed by sensational local Saxophonist Sid Parker and his Swing Band Quartet. Co-Sponsors include Daszkal Bolton, Toshiba and Goldstein Lewin CBIZ.
Tickets are only $35 per person. Call 561-368-6875 for more information or visit www.cmboca.org.  Or just stop by the Danburg office and we'll make sure you get the VIP treatment.  It will be a great event for a great organization. We look forward to seeing you there.  See below for some of the other great events on tap.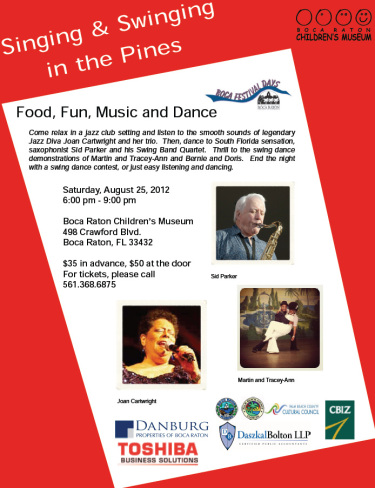 August 17 – 6:00 p.m. – 10:00 p.m.
Boca's Ballroom Battle
Presented by and to benefit the George Snow Scholarship Fund
Where: Boca Raton Resort & Club, A Waldorf Astoria Collection (501 E. Camino Real Boca Raton, FL 33432)
This grand local event is a spinoff of the popular "Dancing with the Stars".   The dancers are:
* Peter Baronoff – Chariman/CEO of Promise Healthcare
* Kristin Calder – Community Volunteer & P.R. Director-Bethesda Hospital Foundation
* Bob Gittlin – President of JKG Group
* Darci McNally – Director of Multimodality Clinics and Psychosocial Services- Lynn Cancer Institute
* Beth Osborne – Community Volunteer, "Class Clown", Boca High, 1976
* Lisa Pechter – Volunteer/Philanthropist
* Richard Pollock – CEO/President, YMCA South Palm Beach County
* Fernando X. Rodriguez – VP Premier Relationship Manager, HSBC Bank
For details: Contact Debi Feiler at dfeiler@scholarship.org or visit http://www.scholarship.org/index.php?src=events&category=%2An&srctype=detail&refno=95August 18th – 2:00 p.m. – 3:30 p.m.
The Boca Raton Historical Society & Museum will conduct Guided Tours of the Historic Boca Raton Resort & Club. The tour begins at 2:00 p.m. on the 2nd and 4th Saturday in August (13th and 27th).
Entry:  $15 per person, $10 per person for BRHS members, plus a $11 Resort valet parking fee.
For details:  (561) 395-6766 ext. 101 for information and required reservations.

August 19 – 1:00 p.m. to 4:00 p.m
Party with Promise – A Party Extravaganza!
Presented by Family Promise of South Palm Beach, the Chamber Ambassadors and the Pavilion Grille
Where: The Pavilion Grille (301 Yamato Road Boca Raton FL, 33431)If you're planning a wedding, Bar/Bat-Mitzvah, Sweet 16, Quince or even a company party, you'll find inspiration at this grand party EXPO. Join the fun!
Entry: $5 for adults, children under 14 are free
For details: Call (561) 265-3370 ext.103 or visit www.familypromisespbc.org

August 20 – 6:00 p.m. to 9:00 p.m.
2nd Annual 'So You Think You Can Sing?  Kareoke Contest
Presented by the Dubliner Irish Pub and Hospice of Palm Beach County Foundation.

Where: Dubliner Irish Pub in Mizner Park (435 Plaza Real, Boca Raton, FL 33432)

The winner receives a $250 cash prize and all associated bragging rights.  There will also be raffle prizes and a performance by Hospice of Palm Beach County's music therapists. Proceeds go to benefit the organization's Music Therapy program.
Entry: Cost to attend the event and cheer favorite singers is $20 per person, which includes a complimentary drink and buffet provided by the Dubliner Irish Pub. Entry for contestants is an additional $10.00
For details: Contact Mary Coleman at (561) 988-2742, or mcoleman@hpbcf.org

August 22th – 6:00 p.m. – 8:00 p.m.
Save the Date for a …
Party To Benefit Hospice By the Sea
Presented by Hospice by the Sea
Where:  TBD
A fun-filled happy hour – the perfect way to spend a Wednesday evening!
Entry:  TBD

Proceeds will benefit Hospice by the Sea's programs and services for patients and families in Palm Beach and Broward Counties.
For details:  Contact Betty Pepper at (561) 416-5007, or bpeppre@hbts1.org

August 23rd – 5:00 p.m. – 8:00 p.m.
Eat to Beat Cancer – A Diamond Jubilee
Presented by The Pap Corps and Royal Palm Place.
Where: Royal Palm Place (215 N Federal Highway Boca Raton FL, 33432)
Celebrating 60 years of The Pap Corps and the Boca Chamber! Participating restaurants will donate 20% of their dinner proceeds to the Pap Corps for their Eat to Beat Cancer fundraiser. There will also be a 3-hour concert by the Wid Cats, a 5-piece band, and a cake cutting ceremony with The Pap Corps and the Boca Chamber at 8:00 p.m.
For details: visit www.royalpalmplace.com for menus, a map of the locations and a guide to free parking. Find out more at www.papcorps.org

August 24 – 5:30 -7:30 p.m.
Celebrity Shake-Up 
Presented by Best Foot Forward and Blue Martini
Where: Blue Martini (6000 Glades Road, Suite C-1380 Boca Raton FL, 33431)

Dueling bartenders will fill the night with some fun and exciting competition, all while raising money to support the foster youth who Best Foot Forward serves.
Entry: $25 for 2 drinks and appetizers
For details: Contact Donna Biase at (561) 470-8300
August 25 – 6:00 p.m. to 9:00 p.m.
Singing and Swinging in the Pines
Presented by Daszkal Bolton and the Boca Raton Children's Museum – as well as CBIZ Goldstein Lewin, Danburg Management Corporation, and TOSHIBA Business Solutions
Where: Children's Museum (498 Crawford Boulevard Boca Raton FL,33432
Come relax in a jazz club setting and listen to the smooth sounds of legendary jazz diva Joan Cartwright and her trio. Then dance to the South Florida sensation Saxophonist Sid Parker and his Swing Band Quartet. Plus much much more!
Entry: $35 per adult
For details: For tickets, please call (561) 368-6875

August 26 – 2:00 p.m. to 5:00 p.m.
6th Annual Boca Helping Hands Bowling for Bread  

Presented by Elements Therapeutic Massage and Boca Helping Hands
Where: Strikes at Boca (21046 Commercial Trail Boca Raton FL,33486) Join us for a fun-filled afternoon of bowling, food, music and raffles to benefit Boca Helping Hands.
Entry: Single bowler – $50 or reserve a lane – $200
For details: Contact Karen Swedenborg at Karen@bocahelpinghands.org

August 28 – 6:00 p.m. to 9:00 p.m.
Pong Fest &Unicorn Foundation Event at Bogart's
Presented by Bogart's Bar & Grill and The Unicorn Foundation
Where: Bogart's Bar & Grille (3200 Airport Road Boca Raton FL,33431
Pongfest & Unicorn Debry 2012 is the merging of two basic ideas: the conviction that we need to help those with special needs and the insight that we can have a great time doing it!
Entry:Singles – $40, Doubles – $75 for Pongest; $100 to be a Unicorn Owner
For details: www.unicornchildrensfoundation.org

August 29th 5:00 p.m. – 8:00 p.m.
Donating the Clothes off our Backs for Women in Distress
Presented by Women in Distress, the Boca Chamber Ambassadors and Oceans 234
Where: Oceans 234 (234 N. Oceans Blvd, Deerfield Beach FL,33441 –
2 Blocks North of Hillsboro on A1A)

Come on by to enjoy happy hour cocktails and 40% off the bar bites menu, after you donate clothing and household items to this amazing and worthy cause!

Aug 31 -12:00 p.m. – 2:00 p.m.
Boca Center's Message in a Bottle Event
Presented by The Shops at Boca Center and the Golden Bell Education Foundation
Where: Uncle Tai's (5250 Town Center Circle Boca Raton FL, 33486)
To commemorate the Time Capsule Burial in the newly renovated Courtyard in celebration of 25 years of making history in Boca Raton!
Entry:$15 per person
For details: RSVP to the luncheon at (561) 368-8806