Written on June 12, 2013 at 4:38 am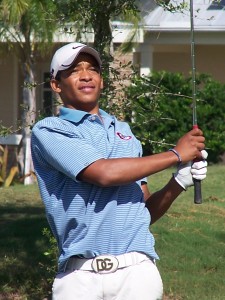 Danburg Properties of Boca Raton frequently welcomes college students to join our team as interns. Our hope is that the students will learn about development and management of commercial, office and warehouse space in and around Boca Raton, Florida. For our part, we hope to make a positive impression on young adults ready to enter the workforce.
Earlier this year, Danburg welcomed to our company Jordan Jackson. A business student at Lynn University, we were surprised to learn that Jordan also was a competitive golfer. We decided to maximize his knowledge, skills – and writing.
While he was here, Jordan posted several blogs on improving our reader's golf game – from Mastering the Short Game to Improving the Swing. He also wrote an article on why newcomer Adam Scott Won the Masters. It seems even more pertinent as the U.S. Open tees off this weekend.
Jordan has the credentials and credibility to back up his insights.
Read this 2009 article on Jordan from the IMG Academy. You'll discover that from the age of 12, he was a competitive golfer in the making. The people at IMG characterized Jordan after his second year there by saying, "He is known as a quiet, dedicated and hardworking student. He is also known for his explosive ball striking – he hits it a long way!"
With a career best five-under 67, he's competed and placed in the Ping Canadian Junior Match play as a runner up in 2007, and in various junior, amateur and national qualifiers and championships.
The Toronto, Canada, native has found more in golf than wins and trophies along the way. He's found life lessons, whether playing at his home course Emerald Hills Country Club in Toronto, or while competing across Canada and the U.S.
"Golf has meant a lot to me in my life. I think it's a sport that has values and morals that most other sports don't have to offer. I mean in my eyes, I look at golf as a microcosm of life," says the graduate of the David Leadbetter Golf Academy. "For example, the discipline that it takes to prepare for a tournament can easily be related to the discipline it takes to prepare for an exam or even a road test to get your driver's license."
Some of his lessons and observations from years spent golfing are relevant to any of us who play – even if only a few weekends a month.
"The best part about being on the golf course is getting away from everything else. It's a time when you can set aside any other worries or troubles and just play golf," he says. "For those 4 and half hours, all your concentration is on playing and playing well. Also a really good part about being on the golf course is being able to spend time with close friends and family for a long period of time outside in the fresh air."
Among Jordan's advice: First, always think about staying grounded when playing. Second, something he learned from friend and pro golfer Sebastian Szirmak, "Always 'Do me' on the golf course…just be myself and play the course – not my opponents."
Always a student – of the game and life, Jordan also carries a notebook in his golf bag so he can note what he's learned and apply it the next time. "I know that the shortest pencil is more reliable than the longest memory."
Even though Jordan's successful internship with Danburg Properties has ended, we're going to watch him from afar – both on the links and in the business world. We've also invited him occasionally to submit blogs about golf, golfers and tournaments. We have much to learn from Jordan – about golf, and about a young man's perspective on life.