Written on November 17, 2013 at 8:45 am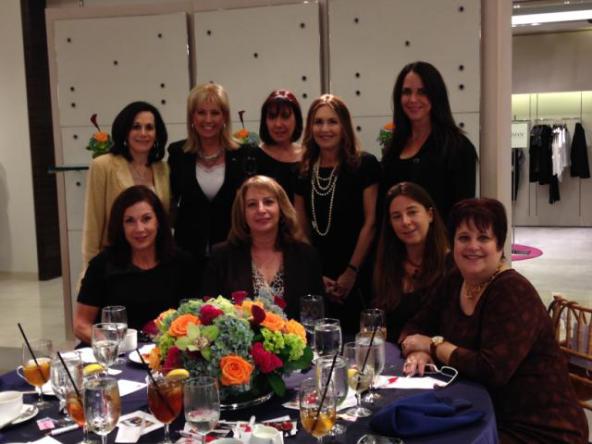 Neiman Marcus / Boca Raton at Town Center Mall welcomed 40 area executive, business and philanthropic leaders on Friday, November 15, to introduce the Boca Raton and Palm Beach County business communities to The Women of Tomorrow Mentor and Scholarship program. The mission of the program is to "inspire, motivate and empower at-risk young women to live up to their full potential through a unique mentoring program with highly accomplished professional women and scholarship opportunities."
The event was hosted by Women of Tomorrow President and Founder Jennifer Valoppi and Danburg Properties of Boca Raton General Counsel Robbin Newman, as well as Deborah Martyn and Laurie Silvers.
A generous grant from IMPACT 100 has enabled the Women of Tomorrow program to expand its Palm Beach County presence into every public high school in Palm Beach County. The event introduced the attendees to the Women of Tomorrow program while enjoying a delicious luncheon and fabulous designer fashions courtesy of Neiman Marcus. A special thanks to Lauren Johnston for organizing the event on behalf of Neiman Marcus and Lisa Peterfreund, Director of Palm Beach County for Women of Tomorrow .
Guests of Newman included not only Danburg's controller Victoria DeBonis (pictured with Newman on the first page of this blog), but also (see photo back row left to right) Eris Sandler, Executive Vice President of BankUnited; Renea Austin, Vice President of BankUnited; Cori Kasten, business owner of Platinum Nursing; Robbin Newman, and Martha Elena DeLima, interior designer; (see photo front row, left to right) Barbara Cambia, Director of Corporate Development for Lynn University; Donna Quinn, general counsel of Biotest Pharmaceuticals Corporation; Patricia Werhahn, CEO of RedSteel Properties, and attorney Phyllis Shuster.
Newman's other guests in attendance included her mother and Boca Raton resident Natalie Newman, Fern Cole of The Rendon Center, Barbara Oleska of ReMax Advantage Plus and Mary Sol Gonzalez of Image360-Boca Raton.
Women of Tomorrow is also a tenant of Danburg Properties of Boca Raton. Anyone interested in information about the organization or how to get involved should contact Palm Beach County Director Lisa Peterfreund at l.peterfreund@womenoftomorrow.org or visit their website at www.womenoftomorrow.org.