Written on September 2, 2013 at 1:48 pm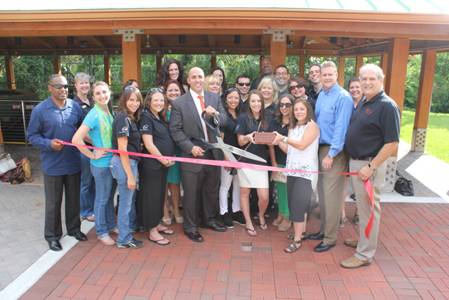 When the Greater Boca Raton Chamber of Commerce's Leadership Boca Class of 2013 purchased a paver from Gumbo Limbo Nature Center as part of the center's "Pave the Way!" program, it represented more than a joint effort of more than 40 executives to support the local community. In short, it was a show of commitment.
To paraphrase Aristotle, "Commitment" is not an act, but a habit. Earlier this summer, Danburg Properties of Boca Raton General Counsel Robbin Newman personified that habit when she graduated with her classmates from the Leadership Boca class.
Then last month, she and her class continued their commitment to the community by sponsoring and donating a paver brick to the Gumbo Limbo Nature Center.
Between Robbin and Danburg Properties President Jamie Danburg, as well as the entire Danburg Properties team, commitment is recognized as a pervasive, long-term pursuit. Robbin continues her mission to be involved in the local community. Jamie Danburg continues his – and his company's – support of local causes, whether Leadership Boca, local non-profits, and even the Florida Atlantic University Owls football team, which Danburg Properties is sponsoring this season.
The Greater Boca Raton Chamber of Commerce's Leadership Boca Class of 2013 has left its permanent mark in the Boca Raton community. The group raised funds to inscribe the paver with the words: Leadership Boca 2013, "Defying the odds" We are LEADERSHIP.
"We are proud and excited that Leadership Boca 2013 has dedicated a paver to Gumbo Limbo and we look forward to the group's and communities' support of coastal and marine education," stated Susan Walker, Board of Trustees for Friends of Gumbo Limbo.
The mission of Leadership Boca is to ensure that community leaders possess knowledge that will enable them to meet the challenges, issues and concerns of the future. They develop an awareness of business issues and challenges facing the community and become a pool of leaders available to create, maintain and enhance the quality of life of Boca Raton. With one small brick, 40 community leaders showed what "commitment" truly means.
Those interested in becoming a member of the Leadership Boca Class of 2014 should contact Chasity Navarro, cnavarro@bocaratonchamber.com.