Written on December 10, 2013 at 7:17 am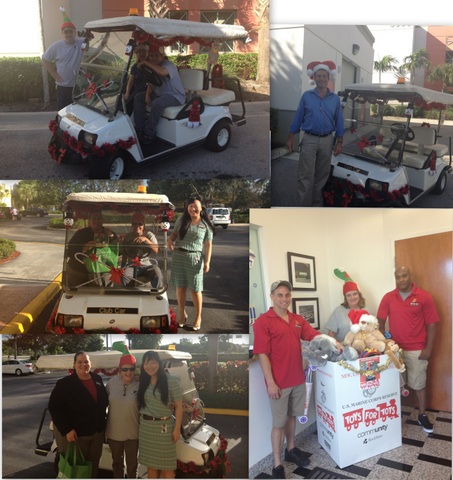 When more than 50 less fortunate children from across Boca Raton and South Florida awaken on Christmas morning, they'll find beneath their trees gifts from a Santa of a different stripe – and delivered in part not by reindeer, but an "Elf Mobile."
Danburg Properties of Boca Raton, along with several Danburg tenants and managers at the Hilton Garden Inn Boca Raton, participated in this year's U.S. Marine Corps Toys for Tots Foundation gift donation event.
The primary goal of Toys for Tots is to deliver, through a new toy at Christmas, a message of hope to less fortunate youngsters that will assist them in becoming responsible, productive, patriotic citizens. For businesses, hotel managers and Danburg Properties, which is in its fourth year supporting Toys for Tots, the mission seemed to deliver a good message indeed.
"For more than a generation, we have worked with organizations across Boca Raton and the South Florida community to spread goodwill throughout the year," said Jamie Danburg, president of Danburg Properties. "By supporting this important cause, we know that we'll play an important role in helping thousands of less fortunate kids in Boca Raton, South Florida and around the country to have a reason to smile on Christmas morning."
For the past month, a large Toys for Tots donation box in Danburg Properties' front office was growing full with toys, games and stuffed animals donated by employees and tenants alike.
When tenants and area businesses had toys to donate, Danburg dispatched its "Elf Mobile" – a tinsel-bedecked cart driven by Danburg employees sporting elf caps – to gather the goodies.
That was the case at the Hilton Garden Inn Boca Raton. Employees and managers at the 149-room hotel, which recently underwent a multimillion dollar full-hotel renovation, collected a variety of gifts. They then were visited this week by the Elf Mobile, which scooped up the toys and brought them back in time for two Marines from Toys for Tots to shuttle them off for wrapping and delivery in time for Christmas.
For Melissa Poage, director of sales and marketing, and Ashlee Mione-Shadwick, sales manager, it's a rewarding way to give back to the community. Said Poage, "It's always nice to partner with our neighbors for such a great cause."