Written on November 11, 2013 at 9:10 am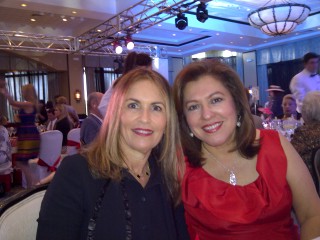 When Robbin Newman, general counsel of Danburg Properties of Boca Raton, attended a Junior League luncheon as the guest of Dr. Marta Rendon of the Rendon Center for Dermatology and Aesthetic Medicine (both pictured here), she witnessed the role the organization plays in the community.
She saw how 27 nominees vied for the Junior League of Boca Raton's Woman Volunteer of the Year, and how Peggy Jones of Boca Helping Hands was named the winner.
She saw a fabulous fashion show at Boca West County Club, presented by Neiman Marcus, and how so many Boca Raton residents, business leaders and philanthropists showed up in support of this important cause.
The award was given by Ms. Jan Savarick of the Boca Raton Regional Hospital Foundation and Mr. Dick Pollack, C.E.O. of the YMCA of Palm Beach County.
This year's Junior League of Boca Raton Woman Volunteer of the Year Award Luncheon, sponsored by Boca Raton Regional Hospital was a particularly rewarding day for the Boca Helping Hands family.
Danburg Properties of Boca Raton is a dedicated supporter of Boca Helping Hands. Throughout the Woman Volunteer of the Year luncheon, attended by over 750 people, "Boca Helping Hands" volunteers kept popping up. Two other nominees volunteer at Boca Helping Hands. One, Nicole Richards (nominated by the Rotary Club of Boca Raton), has been instrumental in preparing the pantry bags each week for the West Boca Panty program.
In addition, young Ms. Richards, a student at Palm Beach State College has launched The Community Closet. The program gets gently used clothing to needy families in West Boca.
It was truly a day to celebrate the incredible volunteers who make Boca Helping Hands the organization it is. We at Danburg Properties of Boca Raton applaud all the finalists and thank you for all the work you do.