Written on October 11, 2013 at 5:16 pm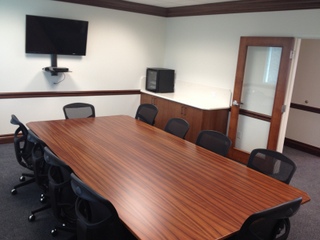 Commercial, office, warehouse and industrial property tenants in Boca Raton often have need for meeting and conference space. So some might have read with interest the South Florida Business Journal annual list this week of the Top 25 South Florida Convention & Meeting Sites in South Florida. From the Miami Beach Convention Center to the south to PGA National Resort & Spa to the north, and the Palm Beach County Convention Center, the Breakers Palm Beach and Boca Raton Resort & Club here in Palm Beach County, options abound. Biz Journals subscribers can read the list here.
But what about when the largest available options are too large?
Sometimes, space for 13,000 (like that found in Miami Beach) or 2,700 (found at the Boca Raton Resort & Club) is overkill, especially for small events, like corporate board meetings, sales presentations or other more intimate gatherings.
Earlier this fall, Danburg Properties of Boca Raton announced the opening of the Danburg Conference Center. This state of the art conference suite features a conference room with a boardroom table an 12 ergonomic chairs and a wall-mounted flat-panel monitor for laptop presentations.  The conference room also includes a cabinet and counter space ideal for serving refreshments during meetings.
Beyond the French doors of the conference room, the space includes a sitting area in the front, with couches and high-top tables for eight. It has a kitchenette and buffet line, as well as a restroom. The facility has a maximum capacity of 25.
Danburg Properties of Boca Raton invites tenants to keep us in mind when planning your next corporate function.
Click here to make a Meeting Room Reservation Request. Feel free to contact Renee Dougherty at renee@danburg.com or Kathy Goldweber at Kathy@danburg.com or call the Management Office at 561-997-5777 to learn more or to make a reservation.
With a maximum capacity in the dozens – not thousands, we know this facility will find a welcome audience among Danburg's tenants.