Written on September 5, 2013 at 11:02 am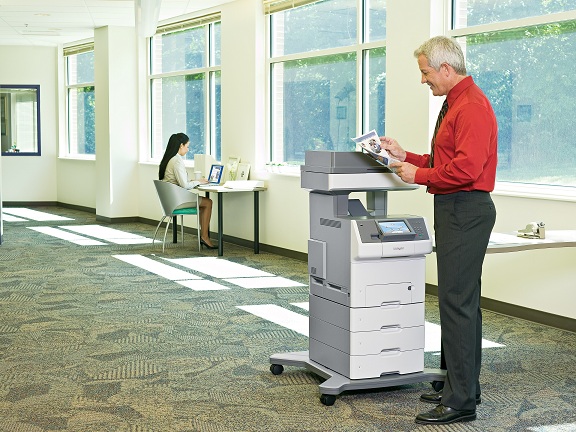 Whether running a traditional professional business from a Boca Raton office location or a manufacturing or warehousing company anywhere in South Florida, efficient 21st Century workplaces aren't necessarily "paperless." But they require leading-edge workflow of paper and digital documents. To accomplish this feat, multifunction devices and business software applications help to improve workflow, enhance security and lower environmental impact.
TGI to Host FREE Lunch & Learn at The Preserve September 12. See Details Below.
"The core of any company is contained in its paper files, network folders, email servers and customer databases," says Paul Franetovich, TGI Office Automation branch manager, a document management solutions provider with local offices based in The Preserve from Danburg Properties of Boca Raton.
"Any company can increase its efficiency and profitability by improving how they manage digital and paper documents," he says. "We help businesses create, store and secure their documents more efficiently by implementing solutions that centralize information and enable decisions to be made quickly and efficiently."
That's the message Franetovich hopes to impart to South Florida businesses at two "Lunch & Learn" events his team will host this month in Palm Beach County.
On September 11, the company will hold a Lunch & Learn at the Phillips Point Club by The Breakers (777 S. Flagler Drive, Suite 1209E) in downtown West Palm Beach.
On September 12, TGI will host a similar event at its main office and showroom in The Preserve (7700 Congress Ave., Suite 1112 in Boca Raton). Both events begin at 11:30am and run until 1:30pm. Both events are free.
In fact, "The Boca Raton office location is ideal for events – and overall sales and client service," says Heather Davis, TGI Marketing Coordinator. The company moved into The Preserve three years ago. Since that time, the 50-year-old Brooklyn, New York-based company – the Official Office Solutions Provider to the Barclay's Center and the Brooklyn Nets NBA team – has expanded its clientele throughout the tricounty area.
The Preserve's central location helps TGI easily serve the region. TGI has clients from Miami-Dade County, through Fort Lauderdale and north to St. Lucie. The central location – seconds from Interstate 95 – allows the company to service clients and prospects throughout South Florida.
TGI executives worked closely with the team at Danburg Properties of Boca Raton to design the perfect office suite, Davis says. The company's location includes showroom and meeting space ideal for demonstrating the capabilities of its Toshiba, Lanier and Lexmark product lines. The space also can accommodate Lunch & Learn guests, who will discover document management techniques and enjoy local networking.
"Our goal is to be the perfect business partner to our clients, just like Danburg is the perfect business partner to us," Davis says. "With our expertise in document workflow, we can help any company increase efficiency throughout the organization."
Learn more about TGI Office Automation at www.tgioa.com. To register for the events, call 561-405-0187 or email lunchandlearn@TGIOA.com.