Written on March 15, 2012 at 5:44 pm
London, the Standard Poodle, owned by our own Jamie Danburg and Michele Molnar has been grabbing national headlines with his 68  (As of May 20, 2012) Best In Shows, including the AKC/Eukanuba National Championship. This section is a real-time digest of the life of America's top show dog. Check back often for updates. Click Here for Volume 1 featuring AKC/Eukanuba and Westminster
We've also added a Facebook album on Danburg page, showcasing Jamie, Michele and London's journey in NYC during Westminster Week. Check out our page here: Westminster Album

Click to follow London
May 20, 2012
Another Milestone For America's Top Poodle!
Congratulations to Danburg Management's own London The Standard Poodle, who won his 68th Best In Show at the Blennerhassett Kennel Club in Marietta Ohio on May 20. Thank you Group and Best In Show Judge Mrs. Robert (Polly) D. Smith for this amazing recognition and honor.
London is now the top winning black standard poodle in history! What a better way to memorialize a great dog than with a bronze life sized bust.  Here is the first step in its creation, that began this weekend.


But that's not the only fine art inspired by this fine canine.  We'd like to thank Sophia E. from our neighbor NCCI,  who sent us this great drawing of our favorite poodle !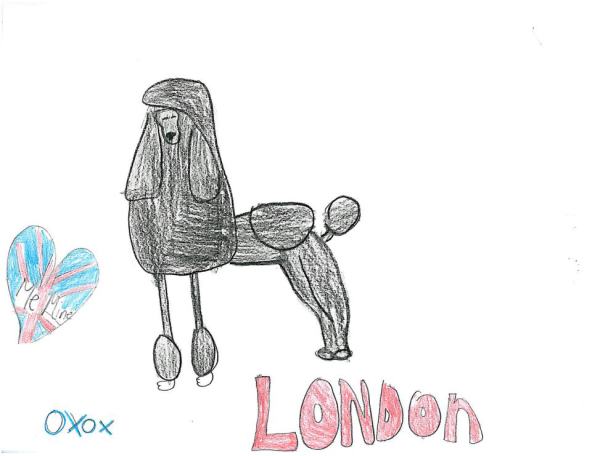 April 8, 2012
London takes another BIS in Saginaw Michigan.
According to http://dogshowpoop.blogspot.com
Best went to the nation's Number One Non-Sporting Dog, the Standard Poodle, London.  London is also the country's Number Seven Dog All Breeds with 15 BIS this year, the most by any dog this season.
Dog Show Poop has London as #2 in it's top ten rankings behind Fifi The Doberman. London finished ahead of the Doberman on in Michigan on Sunday while the Fifinator won her 12th BIS of the season Saturday. It looks like these two will be going head to head, or snout to snout all year.  London loves to compete with his friend Fifi, they're both great dogs and we look forward to many more BIS's for both.
April 1,2001 – No Fooling – London Impresses in the Land of Cheese !
London was the big winner in Manitowoc Wisoconsin this weekend taking two more Best In Shows, running the count to 65 BIS titles !  According to Billy Wheeler at www.bestinshowdaily.com:
"The reigning AKC/Eukanuba National Champion has a habit of taking a weekend off and coming back with all his batteries charged to have a multiple BIS performance. This weekend London was in Manitowoc, WI, to pull off back-to-to-back BIS at the Packerland Kennel Club's two shows. "

 March 16, 2012
March Madness goes to the Dogs
As March Madness gets into full swing, Boca Raton's  London The Standard Poodle is in basketball-crazy Louisville Kentucky for the Louisville Kennel Club's annual Dog Show.  London is competing for his 64th "Best in Show" Title.
To put it in perspective, London's 63 Best in Shows are equal to number of wins by Muhammad Ali (The Muhammad Ali Center is in his birthplace of Louisville) plus the seven National Championships won by the University of Kentucky. (The University of Louisville has 2 more championships)   London won the prestigious AKC/Eukanuba National Championship back in December and has 12 Best In Shows already in 2012.
The event takes place from March 15th – 18th at the Kentucky Exposition Center. The Louisville Kennel Club was founded in 1886 and has been holding annual competitions since 1915. For those of you celebrating St. Patrick's Day this weekend, remember that Kentucky produces 80% of the World's Bourbon which is a great American alternative to Irish Whiskey. London also wants all his fans in Kentucky to know that his favorite toy is a squeaky replica of a Louisville Slugger.
March 13, 2012

Regardless of the Man, Some
Things Never Change:
This article on Dognobbit.com from March 8 could be about any guy who's a superstar in his field. But this one is about our favorite Standard Poodle. Click here to read more about London and his entourage which includes Jamie and Michele !
Top Ten List – Still #1 !
From Dog News
1
GCH CH Jaset's Satisfaction (London)
8073 Points Poodle (Standard)
B Harris/M Molnar/J Danburg
2
GCH CH Protocol's Veni Vidi Vici
7897 Points Doberman Pinscher
S Lundy/D Lundy/J Mullins/K Mullins
3
GCH CH Oakley's B'Dazzled
7703 Points Setter (English)
D Jenseh/G Jensen/E Strickland/J Strickl

March 12th, 2012

Grooming a Path to Victory – Backstage at the AKC Eukanuba Championship with London, getting a rare look at London's "do". (click photo to view the video)
2012 Barkfest at Bonhams – Charitable event
"Hundreds of dog lovers and art aficionados enjoyed a wonderful morning at the AKC Barkfest at Bonhams on Sunday, February 12. The event supported the AKC Humane Fund, Inc. a 501(c)(3) charity that promotes responsible dog ownership through education and gra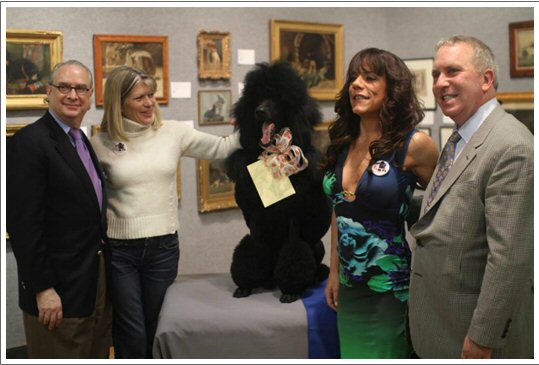 ntmaking. "
See Photos (also see photo, right)
March 8th, 2012
BEST IN SHOW 63 TODAY
Pictured with Ann below: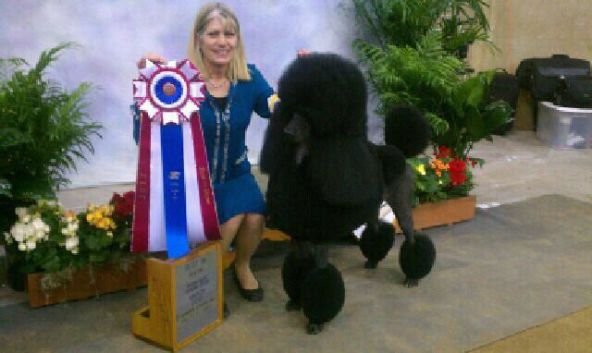 March 4, 2012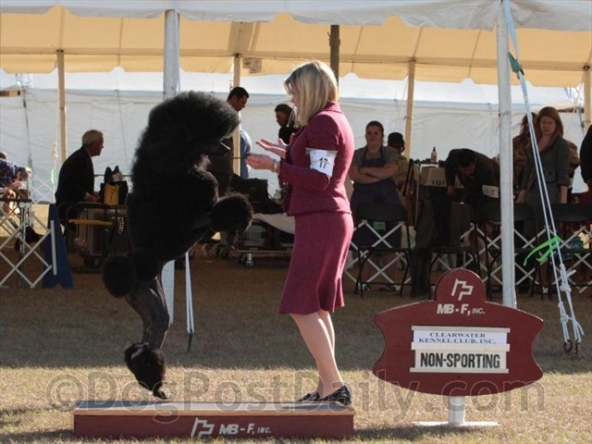 What a weekend ! Back home in Florida, London won his 59th and the milestone 60th Best In Show at the Pensacola Dog Fanciers Association Event. Two days earlier he won his 58th ribbon taking Okaloosa Kennel Club BIS honors in Fort Walton Beach. You can tell from Vincent Zuniaga's photo provided by at Dog Post Daily that London was very excited with the results ! So were his fans and his family at Danburg Management. We also searched the archives to find a great article on how London became a show dog and how he got his name at petside.com.
Volume 1 features earlier coverage of America's Top Show Dog including his dramatic win at AKC/Eukanuba.