Written on October 23, 2014 at 10:31 am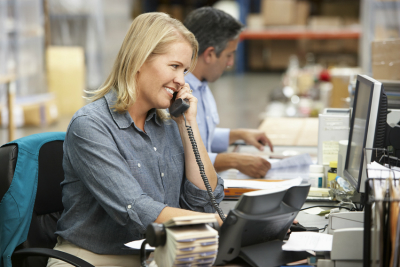 A business, no matter how large or small, needs to keep costs low. A startup is struggling to keep their head above water, and a corporate giant is trying to balance costs and profit. It's an unending struggle, but there are ways to lessen the pressure.
At Danburg Properties of Boca Raton, we've always prided ourselves in the quality and reliability of our industrial real estate, but we encourage the creative and innovative ideas that fill those spaces. We're here to provide you with office warehouse leases that allow you to make the most of a space in any way you see fit.
More and more companies, especially those looking to cut costs, are turning to warehouse space as a viable option to set up their office. Warehouse space in general is a flexible and smart choice for all manner of business needs. Because it doesn't have some of the aesthetic features of a traditional office space, this option also represents a significant cut in costs for the company. With all of that open space, many companies have been creating exciting new places for employees to work that defy the norms of a traditional office in the best way possible.


Reasons to Choose Warehouse Space for your Office's Needs
We all imagine offices as bleak and drab environments lined with cubicles and walls that are all painted the same color. While that may have been true at one point, today's modern office spaces are breaking down those proverbial walls and revealing exciting new ventures into creating a fun and visually exciting working environment. Let's examine some of the benefits you can receive by choosing warehouse space for lease when you're looking to set up an office for you or your company.


1. The opportunity to turn the office concept on its head
Possibly the most exciting venture you can undertake here is the bold attempt to create an office that stands out. A recent article from Forbes magazine outlined ten "Cool Office Spaces." In this article, a spokesperson from Glassdoor spoke out about the importance of an office space that creates a positive working environment. "Creating a cool office space can and should reflect a company's culture. It can be a sense of pride for your employees and an attractive selling point to recruits," she said.
2. More useable space
While setting up shop in a beautiful office layout is the dream, some startup companies could use the most space for their money, or perhaps they need one space for both storage and office setup. Warehouse space for lease offers a multi-purpose solution for both your storage and business needs. Why have several thousand feet of space dedicated solely to offices, when you could multiply that space, break down the walls, and have all of it to use as you see fit?
3. Exclusive ownership of the space
Working in an office building also has a downside in the form of other tenants. There's nothing wrong with sharing a building, but the idea of having your own front door for your business is quite tantalizing. With no wasted space, and all of it to call your own, not a single inch goes to waste, and all of it is opened to you.
It is for these reasons, and many more, that warehouse space is going fast. Before it runs out, see how "The Danburg Difference" can bring you not only the space you need, but all the services and amenities that come with it.


Office Warehouse Space For all Your Needs
For the startup business, we recommend our recently constructed small bay industrial and warehouse space offered at Holland Drive Industrial Park. This space ranges from 1,000 to 2,000 square feet and features several appealing amenities:
Recently constructed
Immediate occupancy available
Impact glass and storm resistant overhead doors
Units each have a 14-25% office finish
private restrooms are in each unit
Prime location south of Clint Moore Road between Congress and Military
For the small business looking for storage and office space in one, this is the ideal solution for you needs. If you're a larger business looking to try your hand at creating an innovative office space solution in an industrial setting, then we have the place for you. Welcome to Boca Industrial Park. This is the only Class A industrial park in the city, featuring a six-building layout and a total space of 386,846 square feet. The spaces here range in size from 5,000 to 30,000 square feet, leaving you with plenty of options.
Here are the amenities you can expect to receive when leasing commercial real estate here:
Seconds from the I-95 Congress Avenue Interchange
20'-24' clear ceiling heights
Dock and grade level loading, three-phase electric
Security patrol from dusk to dawn
High-speed broadband options
Upscale office and HVAC included in many warehouses
On-site leasing management and ownership
These properties, combined with the quality service that our company provides are all the reason any business needs to take that leap of faith and choose from our office warehouse leases. We're here to serve the city of Boca Raton and the businesses that it holds. Inquire on our website today for more information.