Written on September 30, 2014 at 10:37 am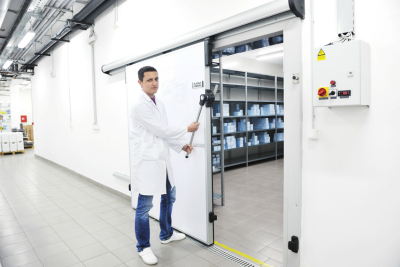 Maintaining a business in the medical industry is very similar to being a doctor in the sense that you're always on call. With technology constantly changing, new diseases, and medications appearing on a daily basis, you are always up to your eyeballs in new developments and changes to the profession and the standards it entails.
Storing all of your equipment, medication, and supplies in a medical warehouse in the most common choice as it allows you to keep everything organized and under lock and key. Besides being vital, these items are consistently expensive and require a place where they can be stored without any fear of security breaches.
Why Choose to Lease a Medical Warehouse?
Some may question the need for leasing a warehouse for a medical supply or pharmacy business, but when considering some basic facts, it becomes clear that this is the best method for storing and distributing medical supplies and medication. First let's consider the sheer number of medical products ranging from equipment, to supplies, to medication.
When visiting a typical website that sells these products, the choices are overwhelming, bringing about the question of how they could possibly store all of these things in anything but a warehouse? Of course, this claim alone isn't enough to justify a medical supply warehouse, so let's examine some of the common categories of medical supplies that such a business will carry.
1. Self-Care Equipment
The devices in this category are ones that patients use in their daily life. They do not require a clinician to be present and usually include things like hearing aids, blood glucose monitoring devices, and mobility aids such as walkers.
2. Electronic Equipment
As technology grows, this category grows with it. One major aspect of this category is the EMR or electronic medical record. This device stores all the patient's health information and is emerging as a portable device in recent years. This category would also include medication pumps, mobile technology carts, monitors, and powered medical equipment.
3.  Diagnostic Equipment
These medical tools are crucial for testing and screening for diseases. They include Sphygmomanometers which measure blood pressure, ophthalmoscopes, which are used for eye examinations, and otoscopes which examine the outer and middle ear. There are other diagnostic tools as well, but these are just a few examples.
4. Surgical Equipment
While much of this equipment is disposable and consists of handheld items used in surgical procedures, they are always in demand because in many cases they must be thrown out after each surgery for sanitary purposes. This category is huge, and many hospitals actually have an Operating Room Purchasing and Materials Management staff to handle the constant resupply of these items.
5. Emergency and Trauma Equipment
With health insurance becoming a hot button issue, many uninsured patients are turning to emergency rooms because they cannot afford a visit to their primary doctor. An emergency room cannot turn away someone who needs medical help, so these departments are constantly bulking up on all manner of medical supplies to prepare for the rush of patients they receive on a daily basis.
6. Storage and Transport Equipment
With many patients in long-term care not being able to get up and reach certain things, hospitals must have a veritable army of carts to keep all aspects of the patient's medical care mobile. These carts will hold equipment and medical supplies and given the number of room in any given hospital, the number of required carts exponentially grows.
These are just a small sample of the categories that medical equipment encompasses. It is clear now that a business cannot store their wares in a garage or the backroom of a brick and mortar store. Most medical supply businesses have turned to an online method of sales, and a warehouse is the perfect method of storing and distributing these supplies to buyers around the world.
Danburg Properties Warehouse Leasing
A proven history of over thirty years and a team that holds over a hundred years of combined experience, Danburg Properties is leasing the top warehouse properties in the world, located in the gorgeous city of Boca Raton, Florida. Recently constructed properties, high profile clients, and a massive suite of amenities only begin to scratch the surface of what our company has to offer.
A medical warehouse can become the bustling hub of your business, and we at Danburg Properties want to help you find that perfect headquarters for all of your storage and distribution needs. Whether the business is small and growing, or large and expanding, our warehouse leasing options will bring you the ideal space for all of your business needs, and customer service that beats out the competition every time. Inquiries can be made online, or over the phone, so don't hesitate. Visit the Danburg Properties website today!