Written on September 19, 2014 at 10:57 am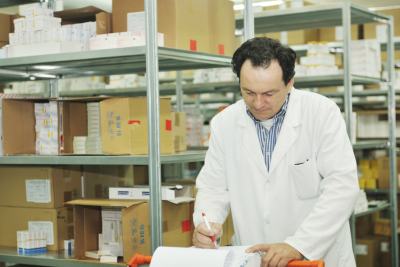 Medicine is one of the most intricate and tricky sciences in the modern world. When we take a pill, we simply assume it's going to work, and while it does most of the time, that success is gained through years of testing and constant trips back to the drawing board. Once created, medication is still far from perfect. It needs to be maintained in a proper storage environment, and in some cases, it has to be kept chilled or it will lose its potency.
While most would assume that warehouses and industrial space only hold things like car parts, and boxes of non-perishable items, technology has allows us to expand the use for these spaces. It is not uncommon to see a pharmaceutical warehouse, but they must be properly laid out and maintained to ensure that the products within are not lost to time or the environment around them.
Best Practices for Warehouse Layouts and Training
Before choosing and creating a storage area for pharmaceuticals, it's best to have a plan in place that will dictate how you organize the products and ensure their safety. In addition, training should be put into place to facilitate a working environment that is filled with knowledgeable associates who can easily locate product and are aware of the safety and storage procedures. Many modern warehouses will utilize automated software to manage their inventory, however this is not a cure-all solution.
While software can greatly alleviate issues around organization and inventory, common problems such as warehouse layout, lack of knowledge, and subpar training still run rampant. Here are some best practices around these three commonly overlooked aspects of the business.
1. The Best Warehouse Layouts
While this may seem like the most obvious thing to keep in mind, the intricacies of this vital element are often lost in the planning phases. Many warehouses will store materials in various bins across the floor of the space, but this can make it nigh impossible to find a specific product and results in delayed shipments and errors. The first step in a great warehouse layout is to name and label the bins in a consistent manner that all personnel are familiar with.
Other tactics include placing your high volume products closer to the shipping lanes for easier access. Choose logical areas to place your cage, cooler, and vault stored products. Consistent awareness and a position to notice the movement of product will also allow the staff to properly arrange and replenish areas as needed.
Finally, ensure that products are separated, especially if they are dangerous, hazardous, or expensive. If your staff is keeping up to date records, this will also prevent any expired products from being shipped out.
2. Efficient Methods of Training Personnel
A well-qualified and trained staff are the most crucial part of an efficient warehouse team. If a large staff is employed, having organized groups and specializations will promote a cohesive work environment. A major thing to consider is how things like RF scanners will affect, or co-exist with automated systems and management software. These factors and planning should be tested and tweaked until they are perfect.
At this point, all staff should be trained using identical methods to ensure consistent understanding. The entirety of the warehouse staff should be well versed in the tracking and inventory technology being employed. In the end preparation and training will make all of these other factors fall into place.
Top Quality Pharmaceutical Warehouse Space in Boca Raton
Danburg Properties in Boca Raton is the leading provider of commercial and industrial real estate. These bold claims are backed up by a portfolio of satisfied and loyal clientele who have made our company successful throughout its thirty years of operation. With a staff of over five thousand individuals, and over a hundred years of combined experience in the commercial real estate industry, we are the company to bring you the space, and the service you need and deserve.
For example, the Boca Industrial Park is the only A class industrial park in Boca Raton, with 386,846 square feet of space across six separate buildings. This industrial hotspot has openings available through the Danburg Property website, and inquiries can be made with a simple form on the page. Beyond the modern and aesthetically pleasing exterior, there are a number of amenities included with the space available for lease:
      Located seconds from the I-95 Congress Avenue Interchange
     20'-24' Clear Ceiling Heights
     Dock and Grade Level Loading, Three-phase Electric
     Security Patrol from Dusk to Dawn
     High-Speed Broadband Available
     Upscale Offices, HVAC in many Warehouses
     On-site Ownership/Leasing Management
     Hurricane reinforced glass on Windows and Doors
Once the plans have been made and the training is in place, visit the Danburg Properties website, and experience the Danburg Difference today!