Written on April 22, 2014 at 3:03 pm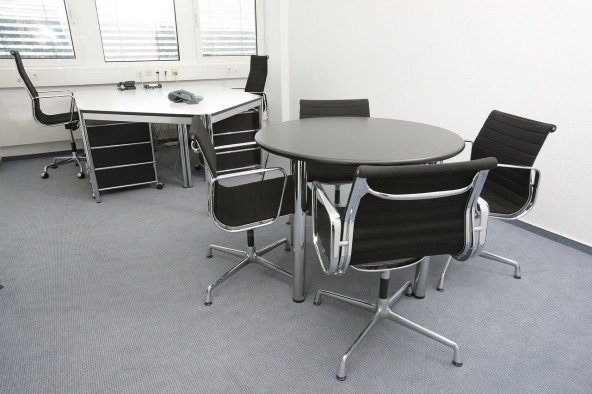 A safe and secure professional office environment is a necessity for a business to thrive. Office security features protect your assets from theft and natural disasters. They also provide employees with a peace of mind that allows them to function more efficiently. Businesses have a responsibility to ensure that their clients' sensitive information is protected. Choosing a professional office space with adequate security will instill confidence in clients that their information, intellectual property and physical property are safe and improve business relations. A professional office space that is secure and prepared for a natural disaster exhibits concern for the well-being of the employees.
Professional office space for lease Boca Raton Peninsula Corporate Center
Peninsula Corporate Center is a 45,803sq-ft Class-A building located just seconds from I-95. The building's innovative design was created by award winning architects, Ken Carlson Architects. The grounds are as exquisite as the building and include tropical landscaping and a central courtyard with a fountain. Offices sizes range from 354 square feet up to 1,891sq-ft. Many include mini kitchens with granite countertops and the Peninsula Corporate Center is also equipped with some of the finest security features available including:
Solid core 7 foot stained office doors
8 inch poured concrete walls
Impact glass
Security cameras
Roving after hours and weekend patrol
After

hours

card access
Professional Office Space for Lease Boca Raton Preserve
Boca Raton Preserve is a 76,346 square foot office park within seconds of I-95. It features one, two and three story, high tech office buildings. Office sizes are available with 580, 594, 1000 and 2000 square feet of space. The buildings are equipped with fiber optic communications systems for VoIP, DSL or T1 access and Satellite TV is also available. All spaces are self-contained with efficient layouts. Units include individual HVAC units controlled by the tenant and maintained by the landlord. The Preserve includes security features such as:
Hurricane

resistant impact

glass
Security patrol from dusk until dawn and on weekends
24/7 card access
Professional Office Space for Lease Boca Raton One Boca Commerce Center
One Boca Commerce Center is a 25,572 square foot office building conveniently located adjacent to I-95, Marriot Residence Inn and Homestead Village Hotels. The building is situated on a lakefront with newly landscaped grounds. It was renovated in 2010 to upgrade lobbies, corridors, restrooms and exterior paint. Office sizes are available with 975 square feet to 2408 square feet of space. Many offices include reception areas, break rooms, kitchenettes and conference rooms. Each has its own HVAC unit. Five night janitorial service is included in the lease as well. Security features include:
Security system for visitor access
24/7 key card access and intercom entry system
Security patrol
Professional office space for lease Boca Raton provides security features to protect employees and business assets. The buildings feature storm proof construction to ensure safety; and security cameras and electronic entry systems safeguard offices. Roving security is also available should emergencies arise during off hours. To view innovative professional office space for lease in Boca Raton, contact Danburg Properties.