Written on February 3, 2013 at 4:38 am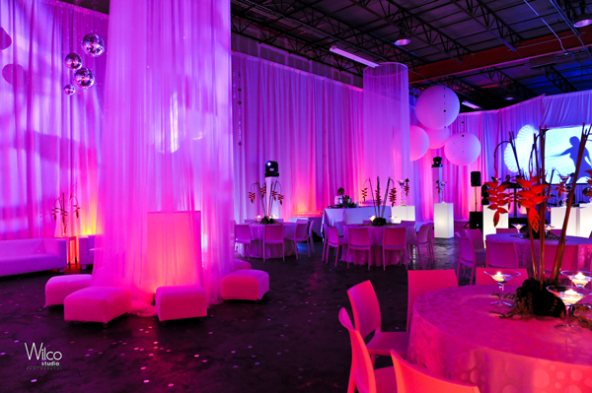 From habitats for companies that make habitats for pets, to headquarters for international corporations, from law offices to textile merchants, the commercial and warehouse facilities at Danburg Properties of Boca Raton are home to a multitude of businesses. Add one more unique tenant to the list: The Loft At Congress.
Three years ago, Wes Goldstein and his wife, Flora, were planning their daughter's bat mitzvah. The couple found that Boca Raton had no unique space to hold her special event. Meanwhile, they watched as their daughter was bussed – or they drove her – to dozens of bar mitzvah and bat mitzvah events in Miami and across South Florida.
The couple soon realized that a niche existed for a unique space to host everything from b'nai mitzvah to weddings to corporate events to even studio set productions.
Goldstein is a Montreal, Canada, native who spent 30 years in sports journalism, including 13 years as the NHL beat writer CBSSports.com, a Major League Baseball writer for the Associated Press, and who covered the NHL playoffs last year for ESPN. He met with Jamie Danburg, president of Danburg Properties of Boca Raton. Together, they scouted just the right space for his unique concept. In 2010, they signed a lease for 5,000 square feet in Boca Industrial Park. Before the year was over, The Loft At Congress, located at 530 NW 77th Street in Boca Raton, was a fully functioning party and event space.
The Loft At Congress is suitable to many events. The 2,000-square-foot pre-function room offers a cocktail area, with intimate living-room like niches and an open space complete with sleek perimeter lounge furniture.
The 3,000-square-foot banquet area is a blank canvas to customize at will to suit any fancy for parties up to 150 (seated) or 200 (cocktail style).  The walls are adorned with full-sized graphic murals; optional white draping can create 22-foot-high walls that create a stark, dramatic backdrop for any event. No matter the event's accessories or amenities, the accessible loading dock ensures easy access and an ideal prep area for caterers, entertainers or other party vendors.
Though he started by targeting bar and bat mitzvahs, The Loft At Congress recently has opened up to a wider variety of events. Goldstein is booking weddings and more "grown-up" parties, like corporate events and adult birthdays. He's fielded inquiries from art and fashion shows, complete with full runways.
Yet, even morning or weekend birthday parties for 5 year olds will find a welcome space.
"People can bring a 50-foot bounce house in here," he says. "It's climate controlled and comfortable – even in the summer – for kids and parents."
Some examples of creatively themed parties include…
A bar mitzvah themed BSPN for a boy named Brett. Instead of seating the kids at tables, two sets of bleachers were brought in. The parents had cutouts of Wrigley Field brick and Ivy sectioning off their area. The food station had a tent over it to make it look like a stadium concession stand. Because of the uniqueness of Danburg Property's 22 foot high ceilings, we were able to magnet hang a cardboard 4-sided scoreboard with the kids picture and team logos.

A woman's 40th birthday party had a Speakeasy theme. Party planners hired women in flapper costumes to greet arriving guests – who were all in 1920s-era suits and evening gowns. True to speakeasy lore, guests needed a password to be let in (of course, those who didn't know the password gained entry anyway). Casino tables were set up in the living rooms up front, with a dark, lounge-like set up with the sofas two bars in the banquet room and a roped-off VIP area for the guest of honor and her "entourage."

A Sweet 16 that eventually turned into The Loft's "white party" package had silk swagging across those 22-foot ceilings, a circular white dance floor, white light-up cubes and ottomon sofas, linens and chairs. Lighting was very subtle purple shades. "It was a very cool party and it was on a Sunday afternoon, which doesn't matter because once you get inside The Loft," Goldstein said, "it's like night time."
The Loft At Congress also hosts photo or video shoots and other commercial engagements in a unique home that can be customized to meet almost any needs, he says. Last September, Latin Grammy winner Prince Royce – the "Latin Justin Bieber" – rented the space and built an entire concert stage, complete with trussing and generators, to hold a dress rehearsal in advance of his tour with Enrique Iglesias and Pit Bull.
"This space, this property is remarkable. I couldn't have created it any better," Goldstein says. "We're in the middle of Boca Raton just seconds off I-95 and easily accessible from anywhere. But we're in a business park and most of our events are after hours. So there's no curfew or noise issues, and no problem parking cars for parties of up to 150 or 200 people. For that size crowd, this is a really great space.
"In real estate, it's all about location, and that's one of the biggest benefits we offer. This is a great property – well-kept and clean with an unbelievable location," he adds. "People are all dressed up on a Saturday night and they're driving through a warehouse district wondering where they're going. Then they walk in the front door and say, 'Wow.' That's what The Loft At Congress is all about – creating an unique event that leaves people saying, 'Wow.'"
Tenants of Danburg Properties of Boca Raton and those who read this article can mention they saw this story to receive a special offer. Just contact Wes or his team by email at info@theloftatcongress.com or call 561-819-3154. Learn more at TheLoftAtCongress.com.