Written on March 8, 2012 at 3:11 pm


Another year, another opening day.  Last year's Danburg Baseball Opening Day video featuring Aroldis Chapman has gotten over 340,000 hits on Youtube.  That's a tough act to follow, but here goes: (You can click on the thumbnail for our video and click on the pictures for larger versions for more photos see the album on our Facebook Page)

Tuesday night March 6th marked the first appearance by the Miami Marlins at the new Marlins Park on the former Orange Bowl site. Ticket sales were limited to 10,000, so I was one of the lucky few who were among the first to take in the fan experience at the $500 million new venue.  Just a reminder – if you don't have $500 million to spend on a new building please consider leasing with Danburg Management !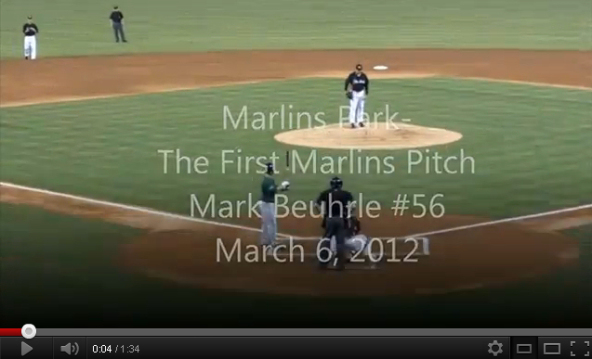 Overall,  I came away somewhere between extremely impressed and blown away with the facility, the architecture, the intimacy and the overall experience. Driving down from West Boca took just under an hour and it's about 20 minutes further than Sun Life Stadium. The good news is that you drive against the rush hour traffic and it's a fairly easy ride in. One immediate plus, even though the skies appeared threatening, the retractable roof means that weather is not an issue.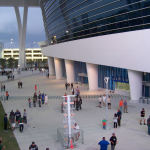 We pulled right into the new 3rd base parking garage, took the elevator down and we were literally right next to the stadium. To describe the exterior in one word, I'd say space-age (does that count as two?)  I felt like I was walking into a deco-inspired spaceport.  It was heartening to see the number of fans wearing Marlins gear with the new logo and colors – a good sign that fan support is building. I wasn't crazy about the new look at first, but I admit it is growing on me. Even Billy the Marlin is sporting the new colors.
Overall, the seats were comfortable as stadiums go, the sight lines are great. It's a huge facility, but it also feels intimate. We were behind home plate but as you go along the baselines the stands curve in so all seats face second base. This saves you a trip to the chiropractor after the game  and corrects a major weakness of Sun Life.. One of my favorite features was the center field Jumbotron which gave me the feeling of watching big screen HD in my family room. There are some interesting vantage points for standing room along the outfield fence. There seem to be plenty of concession stands with plenty of choices. The big upgrade is air-conditioning. It will make those Sunday day games a lot more bearable and probably help the team in terms of reduced fatigue over a 162 game season. We watched the roof close at game time which was a 12-minute process.  We were also able to connect to the free stadium wi-fi. Sometimes, you may want to know something about a little-known Marlins player like Terry Tiffee.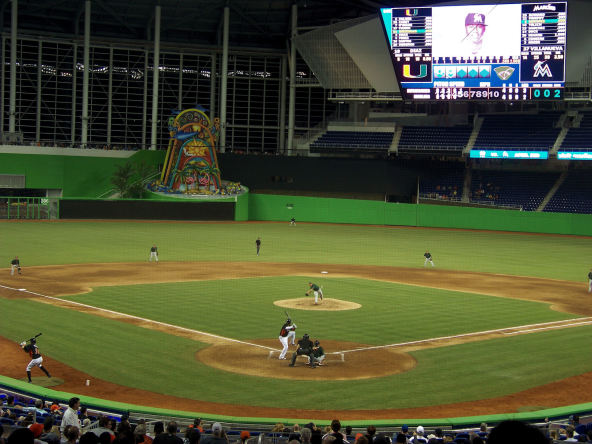 The stadium has three unique features that add some character. The huge windows beyond the left and center field fences will provide panoramic views of Downtown Miami, although we couldn't see out at night.  In addition an aquarium is built into the backstop as you move up the first and third base lines. Finally, there is this "thing" in center field. We'll call it a thing for now, someone will come up with a name. It is a colossal tropical sculpture – to me it looks like Little Havana meets Yellow Submarine.  It is moved enough toward left field so as not to enter the batter's line of sight but you can't miss it as a fan.  I am told it will do something interesting when the Marlins hit a home run. In fact, the biggest letdown of the night what that the "thing" was not allowed to do its thing when Hanley Ramirez hit the Marlins first homerun in the new park.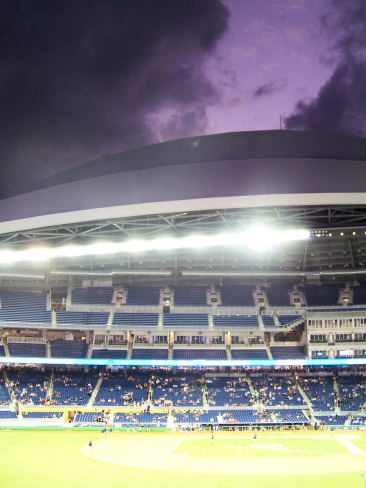 From a baseball standpoint, this is going to be a pitcher's park. It's 419 feet to an unusually high center field fence. While left field at 340 feet is 10 feet deeper than Sun Life, right field at 335 is 10 feet shorter.  But that quickly extends to 392 feet in right center, which will turn a lot of homeruns into outs. There will be some interesting bounces as the rounded enclosure for the "thing" extends into a nook in center field reminiscent of the "bermuda triangle" at Sun Life.
As for the game, the Marlins faced the University of Miami. The Hurricanes actually led 6-5 going into the bottom of the ninth before the Marlins rallied to win on a walk-off hit by Terry Tiffee, a journeyman infielder who last played in the majors in 2008 (thank you stadium wi-fi). A couple of recognizable names on the UM squad were Michael Broad, the star of East Boytnon Beach's Little League World Series Champions of a few years back and Alexander Fernandez son of Alex Fernandez, a former UM star and key contributor to the Marlins 1997 World Championship. Fernandez struggled and Broad got hit by a 92 mph Ryan Webb fastball, but it was good to see them out there.  On the Marlins side, Hanley Ramirez looked like he will be just fine at 3rd base and added his 2-run homer.
So if you're wondering whether to catch the Marlins in 2012, it's definitely worth the trip. The team, which has been pretty good over the past couple of seasons on a minimal budget,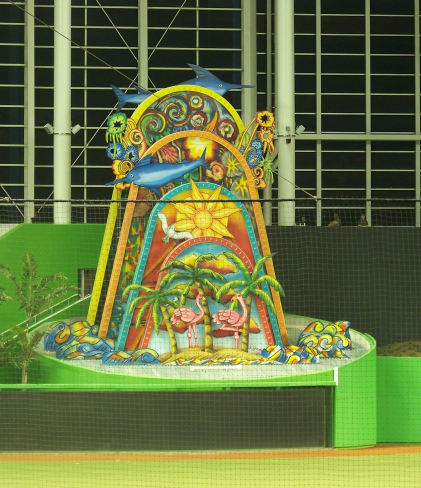 has loosened the purse strings and will be much improved. Miami has always loved a winner, but fans have been largely apathetic about the Marlins despite their two world championships. If he team can avoid injuries and its young stars continue to develop as expected, they can contend in 2012 and beyond. There are no more excuses about the stadium, the rainouts and the budget. This will be the start of a new era in Marlins Baseball. Whether the $500 million spent on the new venue was a wise investment for the city remains to be seen. To put a spin on the cliché, now that they've built it, will we care ?  I'm a big baseball fan and a Marlins fan and I'm still not completely sold on this community's willingness to embrace the Marlins.  It will certainly be interesting to watch and if this team can live up to it's potential, there is a good chance we will care after all.
To see all of our photos, check out the Danburg Management Facebook Page

Ken Silberling – Director of Business Development
Update:  While it was not a problem on March 6, there has been a lot of concern over parking with only 6,000 garage spots and 37,000 seats.  (See Sun-Sentinel Story) The  city will need to address the  problem before the Yankees come to town for exhibition games on April 1 and 2 and the regular season home opener vs. the Cardinals on April 4.  As a fan, I hope they can get it worked out.
Update #2: Look who's quoted in the front page  Sun Sentinel follow-up article . My response to the article: 
"Thanks for the mention.  Thinking about it, we used to pack 80,000 fans into the Orange Bowl, parking on people's front lawns and pumping cash into the local economy.
The answer may be some old fashioned American capitalism. The Marlins need to reach out to the local residents and help them to make it easy for the fans to find parking. This is an amazing venue to watch what could be a very good team. Whether it was a wise decision to build the stadium is no longer an issue; there is no undo button. If it's successful, it's good for South Florida, if it fails, nobody wins. Give it a chance."
– Final thoughts:
1. Was is a good idea to build a $500M baseball stadium in this economy? Probably not.
2. Was the Orange Bowl Site the best location ? No way, but it's the only place the deal could get done.
3.  Would it have been a good idea to make the stadium accessible to mass transit ? Absolutely.
4. Are you happy the place got built? Absolutely again.
5. Even though you're a big Marlins fan would you be happy if you were a Dade taxpayer  ?  No way.
6.  Did Marlins ownership drop the ball on parking ? Could be – let's hope they can fix it.
7. Should taxpayers be footing the bill for facilities where multi-million dollar athletes do their jobs ?
Now that's a really good question and possibly another blog topic.