Written on September 16, 2014 at 9:30 am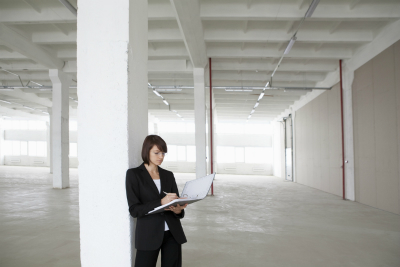 Storage space for businesses is always a factor, especially as the company grows and these needs continue to grow with it. The ideal method of mass storage in this modern age is the use of warehouses that many different commercial real estate companies will offer for rent. Choosing a warehouse is about more than finding the proper space though. Many other factors come into play such as security, amenities, and location.
Many warehouses for rent will offer some of these things, but not all. For a complete experience from a trusted company, our team at Danburg Properties will show you the finest commercial space in one of the best cities on Earth: Boca Raton.
Multiple Use Warehouse Properties in Boca Raton
The range of commercial space on offer through Danburg Properties spans across all types of business needs. With five major properties spanning over a million square feet of space, our company can provide any sized business with the warehouse space to meet their needs. These spaces are the complete package as well, offering a multitude of amenities in addition to the pristine service offered by our company.
These amenities include:
     On-site owner/manager
     After hours and weekend on-site security
     Architectural designs that offer convenient layouts
     Flexible leasing options
     Business class broadband internet
     Communal board room and meeting space for no extra charge
     Full service property maintenance included with every lease
     Private bathrooms
All buildings are also outfitted with impact resistant glass, doors, and backup generators which fully prepare them for any hurricane scenario. An additional amenity that won't be found at other locations is a "pet-friendly" policy, allowing companies and clients to bring their pets into work without worry. With sizes both large and small, any sized business can benefit from these warehouse options.
Holland Drive Park Warehouses for Rent
With the economy booming, businesses are emerging all across the world. For those who need smaller warehouse spaces for rent, Danburg Properties offers spaces to meet the needs of these companies who don't require thousands upon thousands of square footage.
One such location is Holland Drive Park which is full of owners who are always looking for tenants. Similar to Boca Industrial Park, also owned by our company, Holland Drive Park has small industrial warehouse space up to 2,000 square feet. Most spaces also include HVAC, glass, and overhead doors that are all hurricane resistant.
This industrial park is built with a modern flourish and already houses several industries and recreational organizations. The landscape is tailored for a pleasing aesthetic view that creates a bright and energetic feel to the exterior. The plant life is consistently manicured and all surfaces are routinely pressure washed. A few examples of businesses currently occupying space in Holland Drive Park are a gym, film studio, and a tech company.
This industrial park offers small grade level bays and a variety of security features to protect the assets of our client's businesses. Openings can be viewed on the Danburg Properties website, or clients can call to inquire about the current options available.
The Danburg Difference
Danburg Properties has been serving the city of Boca Raton for over thirty years. The combined total of 5,000 employees across two main campuses combine to create a team with over 100 years of combined work experience in the commercial real estate business. We are the largest industrial property owner in the city and house over 200 Boca Raton based businesses as tenants.
Our company is also known as a major player in the community. We have been a Trustee Member of the Boca Raton Chamber of Commerce for over fifteen years. To further our place in the community, our company also supports over 40 local philanthropic organizations through charitable giving. These things are only a portion of what creates "The Danburg Difference."
The aforementioned facts serve to forge our place in the community as a long-term provider of commercial real estate in the Boca Raton area, and our tenants are constantly pleased with the high quality of the properties and our exquisite level of service. This, in combination with the amenities such as full service maintenance, round the clock security, and opportunities to network with the other tenants are what truly make our company the best.
More than this though, the list of amenities and the features of each property are long ones, but the true secret ingredient to our formula is the fantastic people that we employ. All of these features and amenities wouldn't mean much if we didn't have experienced people who can meet the needs of our clients.
Our talented group of experienced team members provide the highest quality customer service to meet and exceed the needs of our clients with both our high quality properties and our extensive amenities. We are proud to provide the finest warehouses for rent in the Boca Raton area, and we will continue to do so long into the future as this city, as its economy continues to grow.