Written on April 15, 2013 at 7:34 pm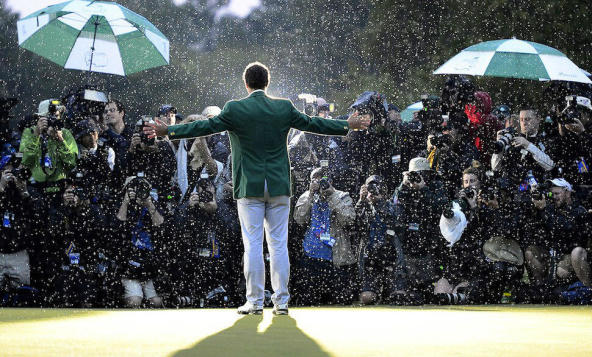 This is the latest blog post from Jordan Jackson, an avid golfer and college intern at Danburg Properties of Boca Raton. Jordan is very successful on the golf course – and knows what he's talking about regarding golfing. Read and enjoy his observations…
If you ask any golf analyst why Adam Scott won The Masters, he or she will probably ramble on about quantitative jargon – saying how Adam Scott hit 76% of the greens in regulation, got up and down %70 of the time, and made 51 pars, six bogeys, and 15 birdies en route to a -9 total. But all of these things are results of a much larger underlying cause; yes he has a near flawless swing. But golf as we all know is much more than a pretty swing.
The unequivocal reason why Adam Scott won The Masters this week was not a quantitative one but a qualitative one. He showed two character traits that have always been synonymous with the name Adam Scott; he showed patience and certain calm. He never let himself slip into anger or depression after a missed shot nor did he let himself indulge in elation after an amazing shot, minus the 18th and the playoff hole, of course; but that will be pardoned.
Patience & Calm – That's why Adam Scott won The Masters, so much so that he looked like an Australian Buddhist Monk.
So how can you be more like Adam Scott? It's all in the post-shot routine.
The time in which you walk from your last shot to your next shot, it is obvious that Adam Scott has a post-shot routine. Whenever he hits a bad shot, he simply shakes his head, takes a deep breath, and assesses what went wrong. When he hits a good shot, he twirls his club and that's it.
Extremely simple premeditated mannerisms go a long way. It's obvious that you cannot do a post routine such as this because of the discipline in which it takes. Or perhaps you can.
My suggestion for you to play more – or should I say – behave more like Adam Scott is to have a predefined set of things to check before you hit a shot, and a pre-determined set of mannerisms to do when you hit a bad shot.
There is no doubt in my mind that by doing this you will be able to sustain a calm and level head whilst you play, which will in turn beget more rational decisions, which will lead to lower scores.